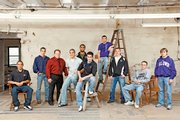 Alan Callahan's wrestling career at Baldwin High was set up for a Hollywood ending at the Class 4A state tournament in Salina.
With one more victory, Callahan would win his first state title, just like his older brother, Kevin, did the year before. He also would surpass his brother's state record for career wins by one.
However, Saint James' Taylor Moeder crushed that dream in the 112-pound finals, and Callahan finished his career tied with Kevin for most career victories and walked away from state with his highest placing ever.
"He had an outstanding career, and he capped it off with a great senior season," Baldwin coach Kit Harris said. "I hate for him to define his career by one match he lost — the state championship match — when one match didn't go his way and so many others did. He has a lot to be proud of and has nothing to hang his head about."
Callahan completed his storied career at BHS with 171 wins. He was 43-5 during his senior campaign.
"I think watching his brother win state made him have a strong desire to do the same thing," Harris said. "I remember how mad Alan was when he got beat out his junior year, but shortly after his loss, he was right there in his brother's corner cheering him on to a state title. They are really close. That's why maybe it's fitting that they ended up tied with the state record."
During his final season, Callahan won five tournaments and placed runner-up at five others.
He never finished worse than second this season.
Callahan won the Gardner-Edgerton Invitational, Eudora Cardinal Classic, Rossville Invitational, Holton Invitational and the Frontier League tournament.
Such feats led him to be named the Journal-World's All-Area Wrestler of the Year.
"Looking back, I'm proud of how I wrestled," Callahan said. "It was a pretty successful season, and placing second at state is pretty good. It was a really great season."
That was no fluke. Harris said Callahan's senior year came as a result of the extra attention and intensity he put into his preparation.
"He's been a really hard worker," Harris said. "This year he was not just working hard, but he was also thinking about things more. He's always been a 'go-er.' Then he added smart wrestling to that and had a great season."
Although the high school portion of the schedule is finished, Callahan is not quite done representing the Bulldogs.
Because of his stellar record and standout career, he was named to three postseason all-star duals for seniors throughout Kansas and Missouri. The first two took place March 11 and March 20, and the final one — the Kansas Senior Classic — took place March 27 in Topeka, where Callahan and three other seniors will be recognized for their state records.
Copyright 2018 The Lawrence Journal-World. All rights reserved. This material may not be published, broadcast, rewritten or redistributed. We strive to uphold our values for every story published.