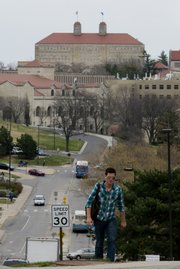 A campus heritage plan at Kansas University is calling for a renewed focus on preservation of the historic campus while recognizing that growth is inevitable.
Peg Livingood, project manager for the campus heritage plan, discussed portions of the plan with about 20 members of the public Wednesday afternoon, while providing a brief history of the campus itself.
Her presentation detailed a time when elm trees lined Jayhawk Boulevard, before dying off in the 1960s, partially because of disease, she said. The trees could be back — although not likely as a single species — along with other aspects of the historical design on campus.
Livingood said the document did not intend to stand in the way of development, and identifies areas for future development that would not hinder the historic nature of the campus. One proposed development area, for example, is the corner of campus near Joseph R. Pearson and Carruth-O'Leary halls.
"Any plan has to take into account the realities of a growing research institution," Livingood said. "That means change is going on nonstop."
Much of the plan, she said, focuses on inventory of what the campus already has and seeks to preserve it. One relatively inexpensive portion of the plan involves clearing unintended vegetation from blocking lines of sight around campus, she said.
She also mentioned some other recommendations of the plan included the formation of a Campus Heritage Advisory Board and a strengthened planning process where early input can be given.
Aspects of the plan are already in place, she said, as heritage advisers were able to keep a steam tunnel entrance away from the middle of a plot of land east of Lippincott Hall currently covered in dirt.
After asking whether the entrance could be placed closer to the sidewalk in a less disruptive place, planners agreed, she said.
"That's one example of how it's been very effective," Livingood said.
The plan will be used during upcoming reconstruction work on Jayhawk Boulevard, Livingood said.
Other aspects covered in the heritage plan include addressing the exterior of Spooner Hall, which Livingood said is the oldest remaining building on campus in its original state. Its exterior is "crumbling," she said.
Also, future landscaping plans call for replenishing Marvin Grove, an area of trees near the Spencer Museum of Art and Campanile Hill, once populated by walnut trees planted under the direction of former chancellor James Marvin.
Copyright 2018 The Lawrence Journal-World. All rights reserved. This material may not be published, broadcast, rewritten or redistributed. We strive to uphold our values for every story published.