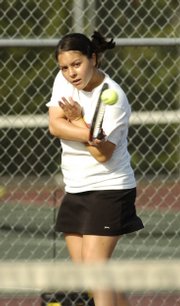 The celebration began, ever so delicately, about 20 minutes before the No. 1 and No. 2 singles matches had ended.
The streak was over.
After losing the city tennis dual every year since Free State High opened in 1997, the Lawrence High girls emerged victorious Monday at the Lawrence Tennis Center.
"A lot of times we came in half expecting to lose," LHS junior Jordan Payne said. "But I think that's changed this year. There's a lot of excitement right now. This is the first time we've ever beaten them."
It's also the fifth time in the last six duals that the LHS girls have won.
None was as sweet as the most recent.
After winning two of the three doubles matches to open the dual, the Lions took the court needing to win just three of six singles matches to win. It took just four matches for that to happen.
First, senior Julia Harris won an 8-3 decision against Free State's Jordan Koch in the No. 5 singles match.
Free State's Liz Walters pulled the Firebirds within 4-2 with an 8-4 victory against Brittany Long in the No. 6 singles match.
Payne, the only player to win twice Monday, and LHS sophomore Morgan Manger followed Long's defeat with 8-4 victories to secure the dual title.
Good thing, too. Free State's Lauren Thames and Mackenzie Lown held off Lawrence's Jamie Jarrett and Elizabeth Simons in closely contested No. 1 and No. 2 singles matches to make the final score 5-4 Lions.
Both of the matches, which became irrelevant because of what unfolded before them, featured memorable comebacks.
Lown trailed Simons, 5-2, before coming back to win, 8-6.
"Since we fell behind in doubles, I knew every match was important," Lown said. "It's kind of disappointing that we lost, since we've never lost to them, but it was rewarding to come back to win my match."
The victory improved Lown to 15-3 on the season.
In the No. 1 singles match, Jarrett trailed Thames, 6-3, before coming all the way back to force a tiebreaker. She ran out of gas in the tiebreaker and lost, 7-4. The singles loss did not deflate her completely, though. She still found plenty of joy in her doubles victory and the team's overall performance.
"I had no idea what had happened," Jarrett said. "Winning those doubles matches was huge, but it put a little more pressure on us because then we just needed three more wins, and that's more pressure."
Jarrett and Long defeated Koch and Katie Mosher, 8-6, in No. 3 doubles. Free State's Ashleigh Stagg and Kelly Phipps defeated Harris and Manger in No. 2 doubles, 8-7 (7-4). And Simons and Payne upended Thames and Lown, 8-6, in No. 1 doubles.
Lawrence coach Steve Hudson credits his team's unity and passion for being able to pull out the victory.
"This is definitely a team sport," Hudson said. "And this is a great team to coach. They have a lot of chemistry and work really hard."
Free State coach John Richey took the loss in stride and said the streak had to end sometime.
"We tried not to bring it up with the team before the match," Richey said. "We knew it was going to be a tough match and had enough to worry about without thinking about the streak."
In addition to cracking the victory column against the Firebirds for the first time, Monday's victory gave LHS the first point in the 2008-2009 standings of the World Company Cup, the seasonlong tally of all sports contested between the city's two large-class high schools.
"We can finally say we contributed to the Cup standings," Hudson told his team during his post-match speech. "We got a point for our school."
LHS travels today to Olathe to take on Olathe North and Olathe Northwest. The Firebirds and Lions will play in the Sunflower League meet Thursday at Olathe North.
Copyright 2018 The Lawrence Journal-World. All rights reserved. This material may not be published, broadcast, rewritten or redistributed. We strive to uphold our values for every story published.