On the street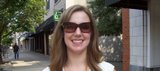 It depends how urgent the need is, but I would try to see if they had someone else who could see me or could suggest somewhere else I could go.
Feeling sick and don't have a doctor?
Or perhaps your doctor's office is closed or you can't get an appointment until the next day.
Besides going to a hospital emergency room, there's now another option to get basic health care.
Take Care Health Systems, a wholly owned subsidiary of Walgreens, opened its first Take Care Clinic in Lawrence. It's inside the Walgreens at Sixth Street and Kasold Drive and is staffed by nurse practitioners. They focus on diagnosis and treatment of common family illnesses and can give vaccinations, physicals, screenings and referrals.
"We are primarily here to provide high-quality care to individuals who have acute illnesses and may not be able to get into their primary doctor's offices that day or may not have one," said Diana Graves, lead nurse practitioner in Kansas for Take Care Health Systems. "Forty percent of our patients say they don't have a primary care provider."
The clinic doesn't require an appointment - just sign in at one of two kiosks. The clinic accepts most insurance plans and will see any patient older than 18 months. It's also open seven days a week; it will close only for Thanksgiving and Christmas.
Don Hansen, Lawrence, used the clinic on Tuesday; he had a sinus infection. Hansen said the sign-in process took about five minutes and then he got right in. It was his first visit to the Lawrence clinic, but he has used the Take Care Clinic in Olathe a couple of times.
Why does he use them? Convenience.
"I'm not a real patient person," he said. "You don't have to make an appointment, and there's not much of a wait."
Having a pharmacy just a few steps away also is convenient and Hansen used it Tuesday, but Graves said patients can fill their prescriptions where they want.
Hansen also likes the service.
"They've always taken care of me," he said.
Carrie Werst, a nurse practitioner at the Lawrence clinic, said the nurses go over each patient's medical history and collaborate with other doctors. She worked one year at a Take Care Clinic in Topeka before joining the staff in Lawrence.
"I think we provide high-quality care compared to others," she said.
So far, about 100 people have used the clinic in Lawrence, but Werst expects business to increase as word spreads and the flu vaccination season begins. The clinic will be offering the shots starting Oct. 1. Graves said medical assistants and other staff would be added if needed.
Take Care Health Systems opened its first clinic in November 2005 and since then has opened 227 in 15 states and served 675,000 patients. There are 13 in the Kansas City metropolitan area, two in Topeka and six in Wichita.
Copyright 2018 The Lawrence Journal-World. All rights reserved. This material may not be published, broadcast, rewritten or redistributed. We strive to uphold our values for every story published.