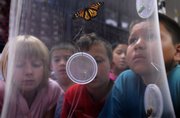 Past Event
When: Saturday, September 20, 2008, 7:30 a.m.
Where: Haskell Wetlands, Haskell Avenue and 31st Streets, Lawrence
-->
-->
Experienced or first-time taggers will grab their butterfly nets Saturday with two Lawrence events on tap.
With sunny skies and 80-degree temperatures in the weekend forecast, experts also predict no shortage of orange, black and white insects flying through the area.
"So far, this is looking like it might be one of those ideal years," said Marty Birrell, director of the Prairie Park Nature Center, 2730 Harper St.
Monarch butterflies are migrating south to Mexico, and it's close to peak season for this region.
The nature center will play host to tagging tours Saturday near Clinton Lake. The traditional Monarch Watch and Jayhawk Audubon Society tagging event will also be Saturday morning at the Baker Wetlands.
Chip Taylor, the Monarch Watch director and KU ecology and evolutionary biology professor, said the tags attached to the butterflies help researchers learn about their migration habits.
Children or adults are given nets to briefly capture the flying insects. The lightweight tags are placed on the wing and don't interfere with flight.
It's also a fun activity for younger people to learn about nature, Taylor said.
"Let's get them outside. Let them get connected with nature a little bit," Taylor said.
The free wetlands tagging event is from 7:30 a.m. to 11:30 a.m. along 31st Street between Louisiana Street and Haskell Avenue. No experience or equipment is required, and directions to the wetlands are available at www.monarchwatch.org.
The Lawrence Parks and Recreation event involves four hourlong staff-led tours for tagging at 10 a.m., 11 a.m., 1 p.m. and 2 p.m. Meet at the nature center, and transportation will be provided. Cost is $3 per person, and children younger than 13 must by accompanied by an adult. Nets will be provided.
A free program about butterflies will also be offered at the nature center every hour, including a free butterfly identification hike at 3 p.m. For more information, call (785) 832-7980.
Even though the area had a relatively cool spring that could influence the population, there should be plenty of butterflies for everyone, Taylor said.
Birrell said "nothing is cuter" than children chasing around the insects with a butterfly net, and the tagging events allow children and adults to participate in "citizen science," she said.
The magnificence of the migration is also on display.
"It's really quite a phenomenon that has to impress anybody," Birrell said.
Copyright 2018 The Lawrence Journal-World. All rights reserved. This material may not be published, broadcast, rewritten or redistributed. We strive to uphold our values for every story published.