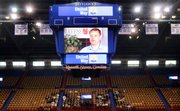 Leaders involved in this year's United Way fundraising campaign watched their game film on the Allen Fieldhouse scoreboard, ate their team meal in the fieldhouse's exclusive Naismith Room and accepted congratulations and encouragement from Lew Perkins, athletics director at Kansas University.
No wonder campaign officials were motivated Wednesday to press on with the task at hand: raising $1.72 million for the United Way of Douglas County and the 25 agencies it supports.
"This has been a championship year for KU in all ways and kinds and forms," campaign chairwoman Judy Wright said of KU's NCAA basketball title, Orange Bowl championship and academic achievements. "I see us just carrying on with that same thing.
"We're going to be winners here. We're going to make this work for Douglas County, and it's going to be meaningful for all the public in our community."
Wright, an assistant vice president for the KU Endowment Association, welcomed plenty of campaign help Wednesday, during the official kickoff breakfast at Allen Fieldhouse.
More than 130 people attended the event, which served two purposes:
¢ Launching the overall campaign, during which others throughout Douglas County will be asked to donate money to help fund the health and human services agencies supported by United Way. The campaign runs through Nov. 14.
¢ Wrapping up the Pacesetter portion of the campaign, during which 24 participating employers spent the previous four weeks generating pledges and donations. They recorded a total of $471,112, up nearly 3 percent from the $458,284 announced at this time a year ago.
Susan Henderson and Cindy Self, co-chairs for the Pacesetter campaign, smiled as they gathered with others in the fieldhouse stands - all in chair-back seats, at midcourt - to watch the campaign video on the scoreboard.
Self enjoyed the view, which differs from the one she gets while watching the Jayhawks that are coached by her husband, Bill.
"Basketball is fun," she said, "but this is way more important."
Nikki King wasn't about to disagree, although she found herself a bit giddy with the fieldhouse treatment. The executive director of Health Care Access, a United Way agency that provides medical care for uninsured patients, hasn't ever sat in such seats, nor dined in the Naismith Room.
King, too, is hopeful that KU's athletic success will rub off on the United Way and its potential donors.
"It's serendipitous," said King, who admitted feeling like "royalty" during the morning events. "It's great. This is bringing some added attention to the campaign this year."
Of the 24 Pacesetter organizations, 14 recorded increases in donations and pledges compared with a year ago.
Among them: Harris Construction Co. Inc., which won the Pacesetter Superstar award by recording the largest percentage increase - up 380 percent from a year ago.
The performance meant Harris employees Misty Schmidt and Phyllis Hunter received a trophy, presented by none other than Perkins himself.
"It's been a pretty awesome year," Schmidt said, of both KU athletics and the United Way campaign.
Standing beside her, Hunter couldn't suppress a smile - one produced by winning the award, then brightened by being surrounded with crimson and blue.
"Our husbands will be so jealous," she said, laughing.
Copyright 2018 The Lawrence Journal-World. All rights reserved. This material may not be published, broadcast, rewritten or redistributed. We strive to uphold our values for every story published.