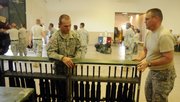 All 600 Kansas National Guard members who deployed to Louisiana to help with Hurricane Gustav storm relief have returned to Kansas, including 65 Guardsmen from the Lawrence armory.
"It's kind of relieving being back," said Lt. Mario Polite, Alpha Company, 2nd Battalion, of the 137th Infantry platoon leader.
The company's soldiers, who live throughout eastern Kansas and are based in Lawrence, spent the last two weeks sleeping in a hot aircraft hangar on cots, the Guardsmen said.
"Everybody was ready to come home," said Polite, of Topeka.
The soldiers were deployed Sept. 3 to Baton Rouge, La., where they supported local police departments and governments with several security missions, mostly crowd control, and helped distribute food, water and food stamps to victims of the hurricane.
"We were happy to help those who were really in need," said Staff Sgt. Matthew Davids, platoon squad leader, of Lawrence.
"That's the good thing about being in the Guard, is you get to go in these disasters and help people in need," Polite said. "It does feel good."
Polite said 1 million homes were without power when the Kansas Guardsmen arrived at the Gulf Coast. He said roof damage, wind damage and downed power lines were the most common problems in the areas he was in.
The mission was fulfilling, said Sgt. Michael Schmitz, who helped coordinate communication efforts in the hurricane-stricken area.
"People were very nice - very, very thankful for why we were down there," said Schmitz, of Beloit. "We'd have kids come up and hang on us, didn't know us from anybody.
"Just knowing that we're actually making a difference, not just taking up air, that the people were really grateful is probably the biggest deal."
About 30 of the Guardsmen returned Tuesday to the Lawrence National Guard armory, 200 Iowa. Another 28 soldiers returned in a convoy around noon Wednesday. Others returned home early. Many of the Guardsmen performed a tour of duty in Iraq three years ago.
The soldiers immediately took inventory Wednesday afternoon of the racks of weapons and truckloads of equipment they took to Louisiana with them.
Several other soldiers returned to armories in Kansas City and Manhattan Wednesday afternoon after having arrived in Wichita Tuesday night, said Sharon Watson, public affairs director for the Kansas Adjutant General's Office.
Copyright 2018 The Lawrence Journal-World. All rights reserved. This material may not be published, broadcast, rewritten or redistributed. We strive to uphold our values for every story published.