Photo Gallery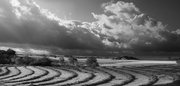 Daniel Coburn Gallery
View several of landscape photographer Daniel Coburn's photographs.
Recently I was able to catch up with Topeka landscape photographer Daniel Coburn and had the opportunity to chat with him about his approach.
Q: Could you explain how you go about scouting a landscape to photograph?
A: I spend hours driving down gravel roads looking for something interesting to photograph in the foreground of my images. I carry a notebook, and I make detailed notes about areas that might be of interest. When the weather becomes turbulent or interesting, I head back to some of those favorite places to make a photograph. So while it only takes a fraction of a second to make most of my images, I usually have many hours invested in scouting locations and chasing storms.
Q: Do you feel it is important to compose around a foreground element, or is it just a matter of personal taste?
A: I compose around the foreground because I am interested in man's relationship with the landscape. While some landscape photographers seek out locations free of human impact, I actively seek out man-made structures and incursions. Sometimes it's something as simple as a winding road or a fence. Sometimes it's an agricultural scene where you can physically see where a machine has plowed furrows or a farmer has harvested his crop. The sky is important to the composition because weather systems help shape the landscape. To me, passing clouds have always represented some measure of time, and they help me convey a sense of drama in my work that I couldn't describe through any other medium besides photography.
Q: Do you plan to continue your landscape work in Kansas, or have you set your sights on other places?
A: I really have no interest in photographing other places. I take my camera along on vacations and trips, but I really feel a connection to the Kansas landscape. I completed a residency at Rocky Mountain National Park in 2007, and while the landscape was beautiful, I didn't feel compelled to photograph it. Right now I am photographing people, and I know that I'll always photograph landscapes, but I am interested in moving in other directions.
Q: What recurring problems do you encounter with landscape photography, and how do you manage them?
A: One of the main struggles in landscape photography is balancing exposure. The foreground often needs to be underexposed to achieve detail in the sky. There are a couple of different solutions. I often use a split neutral-density filter to compensate for the difference. Another solution would be to expose once for the sky and create a separate exposure for the foreground. The two exposures could be combined in post processing.
Q: Do you have any tips for aspiring landscape photographers?
A: There are so many great photographers making great landscape images these days. It's difficult to stand out in the crowd. My advice would be to somehow create a niche for yourself by developing your own unique approach. Some artists do this by narrowing their focus and choosing a specific place to photograph. Some artists have moved away from nature and focus on suburban or urban landscapes. You could build your own unique landscape or manipulate your images to create an unusual photograph. Most of all, I would recommend following your passion and be persistent in marketing yourself. If you are passionate about your work, it will show, and others will take notice.
Q: Where can we currently see your work?
A: You can currently see one of the most comprehensive exhibits of my landscape work at Signs of Life gallery in Lawrence. If you are in Kansas City, visit Leopold Gallery, and if you happen to be in Manhattan you can see my work at Strecker-Nelson Gallery. I am represented by Reuben Saunders Artworks Gallery in Wichita. My work is viewable online at www.danielwcoburn.com.
Copyright 2018 The Lawrence Journal-World. All rights reserved. This material may not be published, broadcast, rewritten or redistributed. We strive to uphold our values for every story published.