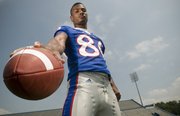 It is a testament to the 2006 Cedar Hill (Texas) High football team that receiver Dezmon Briscoe, who would later develop into a freshman all-American honorable mention selection at Kansas University, was not the most highly touted player on the Longhorns' state championship team.
That honor went to quarterback William Cole, a nationally known prospect who, before committing to Oklahoma State during a highly publicized signing-day ceremony, was high on the Jayhawks' - and just about everybody else's - wish list.
While Briscoe wasn't exactly void of attention as a prep receiver - he garnered offers from Missouri, Iowa and Boise State - home-state schools like Texas and Texas A&M; weren't beating down the door for his services, either.
"It did at first," said Briscoe, when asked if the lack of interest got to him. "But as I progressed in my recruiting, it didn't really bother me none. Because the schools that I did have, I believe that they were pretty good schools, and I chose Kansas. And now I'm here, doing what I do."
What he does is catch touchdowns at an alarming rate. Following a true freshman season in which he collected 43 passes for 496 yards and seven touchdowns (second on the team), Briscoe shined in the Jayhawks' 40-10 season-opening victory over Florida International last Saturday, catching all three of quarterback Todd Reesing's touchdown passes and finishing with 55 yards and a team-high nine catches.
At 6-foot-3 and an ever-increasing 200 pounds, Briscoe has emerged as perhaps the Jayhawks' most dangerous receiving threat - a role that could expand with the loss of fellow receiver Dexton Fields, who'll miss at least one game because of an apparent left foot or ankle injury.
"He's quite confident," said Kansas coach Mark Mangino. "He's a quiet guy, doesn't say a whole lot. ... But he's a guy that really enjoys playing football. He likes coming out to practice."
While Briscoe's on-field exploits have been quick and prominent, his arrival in Lawrence didn't get off to quite as smooth a start. Last year, he was ordered to appear in court on charges of "theft by deception" after reportedly attempting to steal merchandise from a local Wal-Mart in June of 2007 (he later filed a diversion application).
The incident, which occurred while he was in Lawrence prior to the start of his freshman season, wasn't the best start to a career many believe has the chance to be particularly fruitful. Having spent a year in Mangino's program, however, which provides no shortage of discipline, Briscoe has since progressed without incident.
"I thought last year was tough on him, because he was just trying to find his way, yet we were relying on him to play for us," Mangino said. "I think the first year for us, his head was probably spinning. Now, he seems a lot more relaxed. He understands what the expectations are, on and off the field, and he's doing what we ask him to do."
Entering Saturday's game with visiting Louisiana Tech, a team fresh off a 22-14 upset over Mississippi State, Briscoe is hoping to build upon his recent success. Based on last week's game, the Bulldogs tend to mix up coverage on defense, and Briscoe said Wednesday he expects to see some man-to-man coverage come Saturday - a prospect he welcomes ("As receivers, we love one-on-one," he said).
And following a rather pedestrian passing attack in the Jayhawks' season-opening victory - the team averaged just 6.9 yards-per-completion on Saturday, barely half of what they averaged during the 2007 season - Briscoe is hopeful Kansas will have the opportunity to execute a few field-stretching plays against the Bulldogs.
"I believe that we should be able to air it out a little more," Briscoe said. "I think coaches trust the receivers and trust Todd to get us the ball and make plays."
Copyright 2018 The Lawrence Journal-World. All rights reserved. This material may not be published, broadcast, rewritten or redistributed. We strive to uphold our values for every story published.