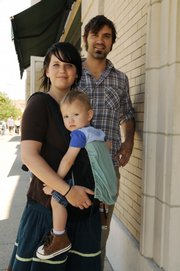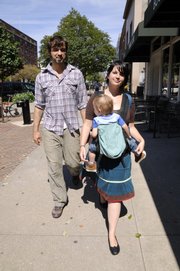 When Christina Ihloff's daughter Iris was a day old, she put her in a baby sling and took her out for breakfast at Milton's.
It had been a long, natural labor, and Ihloff was famished. The sling made it possible to keep her baby warm enough to enjoy the brief outing.
"She was born in the winter, so it would have been too cold to take her out a lot," she says. "But with the sling, I could wrap her in blankets and keep her close to my body."
Whether it's on a trip to the coffee shop or a nomadic journey across the plains, mothers from all over the world have chosen to wear their babies.
Helen Krische, archivist at the Watkins Community Museum of History, 1047 Mass., has found that the significance of "baby-wearing" extends far beyond its practical uses. She is currently researching a project titled "Native American Cradleboards: More Than Just a Baby Carrier."
"The cradleboard was often the infant's first introduction to the culture itself. There is a spiritual aspect to it as well as a societal meaning," Krische says. "Being tied up in a cradleboard is similar to being in the womb. I've seen many babies put in cradleboards and instantly stop crying."
Amanda Berger would agree. Her now 17-month-old son, Jonah, was often soothed in his Maya Wrap ring sling during infancy. "I used to try to take him in a stroller, but he'd get really upset. As soon as I picked him up and he was next to me, he was calm. He was most comfortable where he could hear my heartbeat and smell me. Eventually, I just put the stroller away."
Berger admits that baby-wearing took some getting used to. "He was hard to carry for the first six weeks after the Cesarean: Now that I have a heavy toddler, it's definitely much better on my back because it distributes his weight evenly. Now I can be out downtown for a good four hours with just a carrier."
Many mothers point to convenience of nursing as one of the main reasons for baby-wearing. Ihloff found that the support of the baby sling provided her with increased mobility and discretion. "She wanted to be with me all the time. It made breast-feeding in public and going in and out of stores a lot easier."
"Baby-wearing makes the most sense in getting things done like making dinner or taking care of the house," says Berger, who has found it to be just as useful inside the house as it is on the town. "I never felt I had to choose between doing laundry or holding a fussy baby."
And she's not alone. Berger's husband, Jesse Gray, points out that baby-wearing can be just as beneficial for fathers. "Wearing our children gives us a way to communicate and relate in a lot of the same ways that mothers do. It allows more intimacy from such an early age that the feelings of trust and protection develop naturally."
Copyright 2018 The Lawrence Journal-World. All rights reserved. This material may not be published, broadcast, rewritten or redistributed. We strive to uphold our values for every story published.