Photo Gallery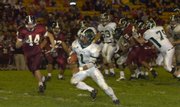 LHS vs. Free State football
Audio Clips
2008 LHS-Free State football
High School Spodcasters
Spodcasters Postgame: Free State 21, LHS 13
The guys (Matt Tait, Jesse Newell) put the final touches on this year's City Showdown with postgame analysis, plays of the game and a look ahead to the final week of district play for the Lawrence High and Free State football teams.
Lawrence High vs. Free State
It was a Lawrence High track, but Free State had the faster horses.
Behind 304 rushing yards, including 223 from explosive senior Chucky Hunter, the Firebirds ran over, around and past the Lions, 21-13, on Friday night at Haskell Stadium.
Hunter accounted for 262 of Free State's 343 total yards and proved to be nearly unstoppable all night.
"That's their tradition, they like to run the ball," Hunter said of the Lawrence High ground game. "But we can run the ball, too."
That much was obvious from the start. After Free State stopped LHS three-and-out on the first possession of the night, Hunter broke off a 29-yard run on the Firebirds' first play from scrimmage. Things were great for about 28 of those 29 yards, but as Hunter was pulled down, he coughed up the football, and Lawrence High's Clint Pinnick recovered.
For the second straight drive, Free State's stout defense clogged the middle and forced the Lions to punt.
This time, the Firebirds' offense capitalized on great field possession. Hunter ran for 13 yards on second down and caught a screen pass for 24 yards two plays later, setting the stage for the first of three touchdowns from junior quarterback Camren Torneden.
On the first, Torneden raced around the right side and bulled his way into the end zone.
Each Torneden touchdown run - nine yards, 20 yards and three yards - was set up by a heavy dose of Hunter. That was all part of the plan, Torneden said.
"That's something we try to do as kind of a decoy," he said. "Because if Chucky just keeps pounding the ball and pounding the ball, they're not going to worry about me and I can just get out there and make plays."
Free State coach Bob Lisher said the strategic playcalling was imperative on such a wet and muddy surface.
"In field conditions like this, it's very difficult to cut," Lisher said. "So our emphasis for Chucky tonight was for him to find a hole and hit it hard and then, when he got to that second level, he could try to make a move or do whatever he does."
Although he carried the ball just eight times in the first half, Hunter went over the century mark as the two teams headed to the locker room. Despite Hunter's 103 yards, Free State's lead was just seven points, at 14-7.
The Firebirds' lead nearly ballooned to 21 points late in the second quarter, when Aundre Allen took a pass from Torneden and raced 68 yards for a touchdown. But the play was called back because of offensive pass interference. It appeared the Firebirds were called for a pick on the play.
"I'd have to see the tape," said Lisher, who chatted with officials about the call before heading to the locker room at halftime. "But I know one thing, having a 21-0 lead at half would have been a heck of a lot different than having a 14-7 lead."
After the pass interference penalty forced Free State to punt, the Lions took over at the FSHS 40-yard line and drove for their first score in a little more than two minutes. With inside 15 seconds remaining in the half, the Lions were out of time outs and faced with a fourth-and-one from the FSHS five-yard line. Rather than attempting a field goal, LHS coach Dirk Wedd elected to go for it. The move paid off when LHS quarterback Clint Pinnick rolled right and found senior Aaron Rea just inside the goal line with four seconds to play in the half.
After regrouping at halftime, Free State responded with a 13-play, 60-yard drive to open the second half. The Lions staged a late comeback when a 14-play, 96-yard touchdown drive, capped by a Clifton Sims one-yard run with 5:26 to play, cut the Free State lead to 21-13.
But in the end, Free State simply had too much Hunter. Hunter carried eight times for 51 yards and picked up four first downs on the Firebirds' final drive, which ran out the clock.
"I've been calling this my dream game," Hunter said. "I've been dreaming about playing this one since I was in second or third grade."
The night turned out to be a dream-come-true for the Free State seniors. They'll leave FSHS without having lost to LHS in football, and on Friday became the first Free State players to win three in a row over their crosstown rivals.
"That's a great feeling," senior lineman Grahm Saunders said. "That's something we'll remember forever. We'll be able to talk about that at our reunion."
The victory improved Free State to 5-3 overall, 2-0 in district play, and all but assured the Firebirds of a berth in the Class 6A state playoffs. Olathe Northwest defeated Leavenworth, 34-14, in the other Class 6A District 4 contest on Friday night, meaning the Firebirds would have to defeat Olathe Northwest next week to win the district title.
LHS, meanwhile, fell to 3-5 overall, 1-1 in district play, but still has a shot to qualify for the playoffs. A Lawrence High victory next week at Leavenworth, coupled with a Free State win against Olathe Northwest, would send both city schools to the state playoffs.
Copyright 2018 The Lawrence Journal-World. All rights reserved. This material may not be published, broadcast, rewritten or redistributed. We strive to uphold our values for every story published.