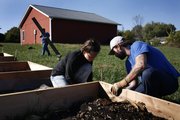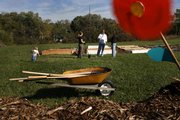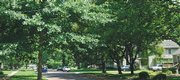 Welcome to our ongoing project, LJWorld.com/Green. Here you can find tips on how to make your life environmentally friendly and read stories about what others in the community are doing to live a more green lifestyle. Eat local, conserve resources, be green.
Earth Day celebrations can inspire people to make changes for themselves and the world around them.
Maybe it's the budding spring flowers, green grass and warmer weather on April 22 that encourage good deeds on behalf of Mother Earth.
But when the parades, the banners and the overload of positive messages about caring for the environment are history, people's enthusiasm can wane.
"It's kind of like making a New Year's resolution for one day," said Brian Sifton, a member of the Kansas University Environs group.
Perhaps 2008 is different.
That's because the tight economy's providing extra incentive to reduce, reuse and recycle.
Jane Gibson, KU associate professor of anthropology, said people are using lessons learned during the Great Depression.
"With the crisis and the economy right now I've been talking to elderly people about how they prepared," she said.
Gibson recalled one story from a 93-year-old woman who grew up on a northeastern Texas farm.
The woman told Gibson: "I never really knew there was a depression. : We didn't have money. We didn't have a bunch of new things. No one else did either, but we always had plenty to eat."
The woman said life was still very satisfying, especially with friends and relatives nearby, Gibson said.
"They produced what they needed to live," Gibson said. "Self-sufficiency is a meaningful kind of security."
The woman's story resonated with Gibson, because she and her family have made drastic changes in their lives in the past two decades. Their main goal was to live simply and to provide for themselves through their gardens.
Hanging out
Money is a driving force for Nedra Roger, who freely admits she's cheap. In fact, the 61-year-old said she'd recycle more if it were more convenient - and free.
"I'm feeling more and more guilty every day," she said. "I just hate myself that I don't recycle my trash, and that's a goal that I have."
But she's made other changes.
After spending last summer in Davis, Calif., a bike-friendly town, she said, she's committed to riding her bike regularly as a means of transportation in Lawrence and that it helps her save money with high gas prices.
Her neighbors have also influenced her to start hanging her clothes out on a line. Her dryer broke and she doesn't want to pay for another one.
"When I look over and, you know, you see your neighbors are hanging out their clothes, it seems more, 'Well yeah, I can hang clothes, too; why not?'"
She said she didn't before because of the convenience of a dryer.
"I'm more and more conscious all the time of the environment," she said.
Adam Juby, 22, has also been influenced recently to make a lifestyle change. He started volunteering at Eastside People's Market, 409 E. 12th St., a place he says recycles anything that's recyclable.
When he recently moved to a new apartment, he set up an organized recycling system. It reduces waste and returns a little money to his pocket, he said.
"I'm not going to know how much money I'm going to be making in a year or five years, and I just want to make sure that every dime I spend, anything I can get back, I do," he said.
Uptick in going green
Locally, businesses, environmental groups and the city's recycling rate show "going green" is catching on.
Cassandra Ford, of Lawrence Waste Reduction and Recycling, said the city has "one of the best recycling rates in the state."
"In my opinion I think people are doing a great job," she said. "Can we do better? Of course. But I have a feeling we are moving in that direction."
Jessi Asmussen, 28, a member of the Lawrence Sustainability Network, has helped three groups start community gardens. One group "hit the ground running" with a garden at Faith Church of the Nazarene, 1020 Kasold Drive, she said. The group of about 15 people young and old said they would donate food to local food pantries.
"I've seen it's the community efforts that are the biggest things people can do, starting small," Asmussen said.
Local businesses are seeing the growing trend of people changing their habits at home, too.
Sonja Miltner, a Cottin's Hardware employee, quickly listed many of the items they've sold that are thought to be earth-friendly and save energy and money.
"I've been seeing tons of (compact) fluorescent bulbs being sold," she said. "We've always had good sales on those, especially recently."
"A lot of people definitely do weather stripping, especially this time of year," she said.
She said rain barrels also have been hard to keep in stock.
"We had them in previous years, but this year had tons," she said.
Business has also been good for Blue Sky: Wind, Solar & Home, 920 Mass., which opened about a year and a half ago, said office assistant Lacey Johnston.
One of the first questions she hears from customers interested in solar and wind systems is "how much will I save?"
"People are always concerned about the environment," she said. "But a lot of times what will affect them the most right away is monetary."
Copyright 2017 The Lawrence Journal-World. All rights reserved. This material may not be published, broadcast, rewritten or redistributed. We strive to uphold our values for every story published.