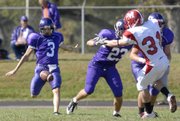 Two players watched on crutches, two more were serving a one-game suspension and another played on one leg.
It doesn't take Haskell Indian Nations University football coach Eric Brock long to count his available men in uniform.
"It's not so much injuries," Brock said. "It's mostly a lack of bodies."
McPherson College struck early and often against the attrition-riddled Fightin' Indians in posting a 43-14 victory Saturday afternoon that spoiled HINU's homecoming.
"It's pretty frustrating," said offensive lineman Aaron Henry, "but we've got to keep coming back with what we've got."
Henry, a 6-foot-3, 300-pound sophomore from Chinle, Ariz., played both center and guard Saturday with a sprained left ankle. Every time he entered or left the field, he limped.
"He's hobbling," Brock said, "but we don't have that many linemen."
Henry has been battling the bum ankle for three weeks and he has re-injured it in every game since, including Saturday when a McPherson defensive lineman stepped on his left foot on HINU's first offense play and the ankle rolled.
On crutches Saturday were two of the six seniors honored before their last appearance at Haskell Stadium - linebacker Mario Torres and fullback-linebacker John Sullivan. Both are out for the season with leg injuries.
The two players forced to sit out for breaking team rules are both starters - sophomore Quentin Haynes, the Tribe's second-leading receiver, and Victor Martinez, a junior safety who calls signals in the secondary.
"Yes, it is disruptive," Brock said of his team's roster deterioration. "But I still think we can be dangerous on offense. We just have to get our ducks in order."
Haskell managed only 131 yards of offense against a team that evened its record at 3-3. Meanwhile, McPherson ran and passed effectively against a HINU defense that had to spend too much time on the field.
In fact, McPherson might have scored even more points if it hadn't lost three fumbles and been saddled with 121 yards in penalties.
Haskell (2-6) still has three road games on the schedule, starting with a long bus ride to Waxahachie, Texas, next Saturday to meet Southwestern Assemblies of God.
Copyright 2018 The Lawrence Journal-World. All rights reserved. This material may not be published, broadcast, rewritten or redistributed. We strive to uphold our values for every story published.