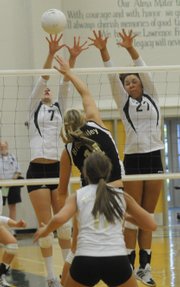 Players on Free State High's volleyball team desperately wanted to add a name to that black board hanging high on the back wall in their gym.
That's the best way to be remembered for years to come, after all. That's where all the other league champions in school history reside.
For the eight seniors on the 10-girl volleyball squad, Thursday night was the best opportunity they'd ever have to make that dream a reality. Win two matches, and the board was theirs.
Mission accomplished.
Free State won the final two matches of its home quadrangular - both against Sunflower League schools - to improve to 10-1 in the league and capture its first league title in seven years.
"This is my third year being here, and actually getting a league title is just an amazing feeling," senior Danielle Augustine said. "Not just for this year, but for every year."
After falling in a non-conference match to Blue Valley High to open the night (30-28, 25-21), Free State focused all its energy on defeating both Shawnee Mission East and Olathe Northwest. One victory would give the Firebirds a share of the conference crown, and two would make them outright victors for the fourth time in coach Nancy Hopkins' tenure.
When the Lancers forced a third set and cut the Firebirds' advantage to 7-6, that outright opportunity appeared in peril.
In stepped Augustine.
The 5-foot-9 outside hitter held serve for 10 consecutive points, including four aces to turn her team's slim lead into a rout. Along the way, junior Alex Mollohan slammed two kills, and senior Taylor Manning contributed a kill and a block. The Firebirds defeated SM East, 25-18, 22-25, 25-14.
"That was just amazing," Augustine said of her string of aces. "It's not all me, though, because my team kept it going, too."
Then, against Olathe Northwest, it was one of the juniors - Chantay Caron - who provided one of the most thrilling plays of the night at a critical moment in the second set.
With Free State ahead, 13-12, and up one set, she went sprawling to the floor, her back to the net, chasing after what would have been a set-tying kill for ONW. But Caron tracked it down, punched the ball back over the net one-handed and nabbed a kill of her own in an open corner against a stunned Ravens team.
Free State went on to beat Northwest, 25-17, 26-24, when Caron delivered one last kill on match point.
"I didn't want it to hit the floor because I hate when it hits the floor," Caron said of the momentum-swinging dive. "It was league, and I might as well go after it because this means everything to us."
Lions 1-2 at home quad
Meanwhile, across town at Lawrence High, the Lions played host to their first home quad of the season and came away with mixed emotions.
LHS jumped out to a great start, knocking off Shawnee Mission South in the first match, 25-19 and 25-20.
Lawrence High coach Stephanie Magnuson said she was not surprised by her team's fast start because of the excitement that surrounded their return home.
"I didn't have any doubt in my mind that we'd come out strong because we were at home, and it's what we'd been waiting for," Magnuson said.
The Lions followed up their strong showing in the opener with another in the second match against Olathe East. LHS took the first set, 25-20, but dropped Set 2 by the same score. In the decisive third set, the Lions fell, 26-28.
The finale of Match No. 2 was filled with close calls and Magnuson said that made a difference in the outcome of that match as well as the next.
"In that Olathe East match, one point change in the game and the whole night is different," Magnuson said. "It's just really hard emotionally to come back after wanting something so bad and not getting it."
That showed in the nightcap, as the Lions fell to Shawnee Heights, 25-20 and 25-16.
Magnuson said Thursday was another step in the right direction. Although her team struggled with a handful of miscues from time to time, none of them was catastrophic.
"The mistakes we made were critical mistakes at crucial times, but they're fixable," Magnuson said.
Lillian Schoenwise - 14 blocks and 17 kills - and Jasmyn Turner - 21 kills and 20 digs - led the Lions on the stat sheet. Tayler Tolefree added nine blocks, 10 kills and 11 digs, and sophomore setter Kiely Mosiman recorded 34 assists and 15 digs.
Copyright 2018 The Lawrence Journal-World. All rights reserved. This material may not be published, broadcast, rewritten or redistributed. We strive to uphold our values for every story published.