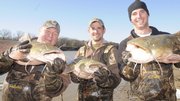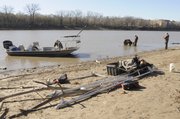 It was a fisherman's delight.
Lunkers — hundreds of pounds of fish — were being pulled from the Kansas River in Lawrence on Tuesday morning, all in the name of the environment.
Crews with the Kansas Department of Wildlife and Parks were conducting a general fish study on the Kansas River in hopes of gathering information that will serve as an early-warning of whether water quality in the Kaw is declining.
"If you think about it, fish may live in the same water for years, upwards of 70 years in some cases, so they can be really good long-term indicators of water quality," said Eric Johnson, an aquatic ecologist with the Kansas Department of Wildlife and Parks.
The state has been doing fish studies on smaller streams in the state for nearly two decades, but has not been able to do similar studies on larger rivers like the Kansas, Arkansas and Missouri. But recently the department purchased a boat with specialized equipment that allows crews to safely work the swift waters.
The boat is equipped with special electro-fishing equipment, which provides a jolt of electricity into the water that stuns fish so they float to the top.
Yes, you likely would receive a ticket if you started fishing this way.
But Johnson said the method is great for researchers because it allows for large numbers of fish to be collected and studied. Fish are taken ashore to holding tanks where various measurements are taken, and then they are released back into the river.
All in all, it adds up to a unique day on the water that produces results that can be — dare we say — shocking.
"You would be amazed at what you'll find in the rivers," said Johnson, who has led several fish gathering crews. "You'll be pulling 40 pound flatheads out of there, and those are some of the small ones."
Data collection on the Kansas River is still in its early stages, so the study has not produced any results on whether water quality is improving or declining on the Kaw, Johnson said.
Copyright 2018 The Lawrence Journal-World. All rights reserved. This material may not be published, broadcast, rewritten or redistributed. We strive to uphold our values for every story published.