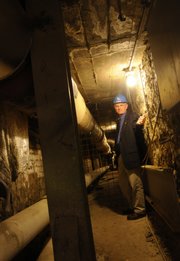 Sitting atop Kansas University's priorities for repair and upgrades was a part of campus few outsiders ever see.
Beneath the campus, a network of tunnels carries steam from KU's central power plant to its about 50 buildings, along with the computer and voice cables that allow people on campus to connect with one another and the outside world.
More than 16,000 feet of tunnels run under the campus, said Jim Modig, KU's director of design and construction management. And most of them are more than 100 years old.
"It's kind of like a lifeline to our facilities," Modig said.
KU was approved for $8.8 million in state funds for an overhaul of some of the crumbling tunnels. The first phase of the work is nearly completed, Modig said.
The overhaul will only affect about 1,600 feet of the system - the ones in the worst shape of all, Modig said while walking in a new pre-cast concrete section of tunnel running under Watson Library to north of Jayhawk Boulevard near Bailey Hall.
The new section of tunnel runs parallel to an older section, which collapsed in on itself while construction work was being done on the new tunnel.
Modig said the old tunnels are constructed from brick and stone, and use archways for support.
"You pull one brick out, you lose the integrity of that arch," Modig said.
The differences are stark between the old and the new tunnels. In the newer section of the tunnel, pipes carrying steam run along one side of the wall and data cables run along the other. The tunnels are well-lit, and there's room for two people to walk comfortably side-by-side.
There's more than enough head room because the ceilings are more than 8 feet tall. There are periodic exits to the top along the way.
"I would anticipate this would still be standing 100 years from now," Modig said.
By using the precast material, KU was able to save more than $1 million on the project, he said.
Stepping into an old section of tunnel scheduled for replacement, it's a different story.
The area is damp, wet from leaks, and the brick and stone are beginning to fall into disrepair.
"I just noticed a pretty good-sized chunk of concrete that wasn't here the last time we were here," Modig said, pointing out what appeared to be a two- or three-foot long slab.
The older tunnels are much smaller and darker, as well, and the heat from the steam pipes is much more palpable.
But KU will still be using most of the old tunnel system, as many tunnels are not to the point of potential collapse, Modig said. He pointed out one tunnel that had boards along the floor to allow for workers to walk above large puddles.
That tunnel will remain in use, he said.
Although stories exist in KU folklore of students attempting to enter the tunnels and carouse about, Modig said that would be a bad idea.
"It's not a playground," he said, adding that if a steam pipe were to rupture, the 400-degree steam could suck up the oxygen in the surrounding area, likely causing death by suffocation along with instantaneous, severe burns.
While the most significant problems with the tunnels have been addressed, KU still faces a large list of deferred maintenance issues - problems with old or decaying facilities that require updates but lack funding, said Todd Cohen, a university spokesman.
He said KU Endowment had set up a way for donors to allocate gifts for other deferred maintenance projects across the campus. Those gifts would take advantage of potential state tax credits for donors, he said.
Preliminary work on the second of three phases for the tunnel repairs is scheduled to begin over the winter break, Modig said, with major work beginning in May after commencement.
That phase is scheduled to upgrade a tunnel south of Stauffer-Flint Hall that runs to Wescoe Hall, and a section running from near Bailey Hall to Strong Hall. In 2010, the third phase will repair a section of tunnel between the Robinson Center and Watkins Health Center.
Copyright 2018 The Lawrence Journal-World. All rights reserved. This material may not be published, broadcast, rewritten or redistributed. We strive to uphold our values for every story published.