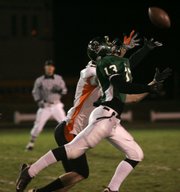 Camren Torneden doesn't know what it is. Perhaps it's Shawnee Mission Northwest's uniforms.
"It must be the orange," Torneden said with a smile. "I'm not sure."
Whatever it is, Torneden owns the Cougars, no more so than on Friday night when Free State High's junior quarterback ran for three touchdowns and threw for two more in a 41-21 victory that sent the Firebirds into the second round of the 6A playoffs.
In an earlier meeting against SM Northwest - the Cougars won that one, 34-27 - Torneden compiled 379 yards of offense. On Friday, he compiled "only" 322. That's a staggering total of 701 yards in two games.
"He makes plays," Free State coach Bob Lisher said. "He makes people miss."
Torneden carried the ball 13 times and gained a career-high 258 yards. Included in that total were runs of 62, 61, 43 and 27 yards. Moreover, Torneden had a 60-yard TD run called back because of an illegal block penalty.
"I wouldn't want to be on the other side of the ball against him," teammate Preston Randolph said. "He's a real strong weapon."
Randolph wasn't exactly a pea-shooter himself. The senior wide receiver-defensive back caught one of Torneden's TD passes, intercepted a couple of SM Northwest tosses and threw a crushing block to climax Torneden's 61-yard TD gallop.
The Firebirds' other howitzer was, as usual, tailback Chucky Hunter who gobbled 193 yards in 30 carries but, curiously, did not score.
As hard as it is to believe, SM Northwest had taken command of this one early. On their third offensive play, the Cougars scored on a 57-yard reverse by slotback Mark Fancher. Then, on their fourth play, quarterback Matt Nowak squirted up the middle and ran 51 yards untouched into the end zone.
A little more than four minutes had ticked off the clock and SM Northwest led, 14-0. Meanwhile, the Firebirds had failed to make a first down on their first two possessions. This one looked like a runaway.
Who would have guessed the Firebirds would score the next 41 points? Who would have thought punter Kirk Resseguie wouldn't be used after those ineffectual first two series?
"We just had a couple of slip-ups," Torneden said, "but we stayed positive."
Those defensive slip-ups, Lisher explained afterward, were caused by overanxiety on the part of a couple of linebackers who failed to stay home.
"We had to calm down," Lisher said. "We were a little too keyed up. We had a couple of guys out of position, but we got that straightened out. There was no panic."
The Firebirds also failed on their third possession when Torneden's pass fell incomplete on fourth-and-eight at the Cougars' 25.
Until the waning minutes, however, when a long fumble return enabled SM Northwest to tack on a token score, the Firebirds were in total command.
Torneden ran 27 yards to break the ice late in the first quarter, then tossed TD passes for Keene Niemack and Randolph, both good for 11 yards, in the second quarter to give Free State a 21-14 lead at the break.
Torneden did not throw a single pass in the second half. In fact, with the exception of a five-yard run by Connor Stremel on a failed fake punt, the Firebirds' offense consisted of either Torneden or Hunter carrying the ball.
Torneden's 61-yard pin-ball TD run on the first play of the fourth quarter was the clincher, giving the Firebirds a 35-14 bulge. Minutes later, linebacker Taylor Stuart supplied the coup de grace with a 57-yard interception return.
"There was no question we would come back," Randolph said. "We had to. We didn't expect what happened early, but we came back and took care of business."
Free State (7-3) will meet Olathe North (8-2) in the 6A quarterfinals next Friday, probably at Olathe District Activities Center. O-North spilled previously unbeaten Olathe East, 22-15.
Copyright 2018 The Lawrence Journal-World. All rights reserved. This material may not be published, broadcast, rewritten or redistributed. We strive to uphold our values for every story published.