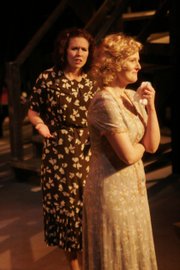 The drama of everyday life in 1920s New York City comes to the stage starting Friday at University Theatre.
"Street Scene" is an opera based on a Pulitzer Prize-winning play by Elmer Rice and with a libretto by Langston Hughes, the former Lawrence resident and renowned poet.
The story follows the lives of four characters in a tenement house. It concerns two plot lines: the romance between Rose and her neighbor, Sam, and the marital affair of Rose's mother, Ana, which is eventually discovered by her irritable husband, Frank.
The show is a cross-section of urban characters and the romance, squabbles and gossip they deal with daily.
The opera, which won a Tony Award for Best Original Score, is being directed by New York director Tazewell Thompson, with David Neely, KU's director of orchestral activities, leading the 60-piece Symphony Orchestra in the production.
Shows are at 7:30 p.m. Friday and Saturday and Nov. 13, 14 and 15. A matinee is scheduled for 2:30 p.m. Sunday.
Tickets are $20 for the public, $10 for students and $19 for senior citizens, KU faculty and staff. They are available at the University Theatre box office, 864-3982; the Lied Center, 864-2787; and the Student Union Activities office, 864-7469. They also are available online at www.kutheatre.com.
Copyright 2017 The Lawrence Journal-World. All rights reserved. This material may not be published, broadcast, rewritten or redistributed. We strive to uphold our values for every story published.