Photo Gallery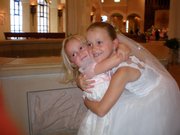 Friends and Neighbors, November 2008
With his team huddled around him in the west end zone at Haskell Stadium on Friday night, Free State High football coach Bob Lisher received the district championship trophy and displayed it for his players to see.
"That's one," Lisher told his team. "I want four more."
If the Firebirds play the rest of the way like they did in a 41-9 victory against Olathe Northwest on Friday, that could become a reality.
Free State dominated from the start, racking up 35 first-half points before shutting its offensive machine down in the second half.
Senior tailback Chucky Hunter carried 12 times for 203 yards and scored three touchdowns in the first half. Hunter's second touchdown of a 228-yard night provided all you needed to see about what kind of evening it was for Olathe Northwest. After plowing forward for runs of six and 26 yards, Hunter took his third straight handoff at the 21-yard line and cut left. As he danced past defenders on his way to the end zone, Northwest's Luke Braland lowered his head to make a tackle. So Hunter did the only thing he could and hopped over him. Landing in stride at the four, Hunter coasted the rest of the way to give the Firebirds a 28-0 lead.
"On the play before, I saw the free safety came up a little bit, and I just told myself, 'If he comes up next time, I'm jumpin' over him,'" Hunter said.
Hunter said his vertical leap tests out at 28 inches.
"I was probably 34 or 35 on that one," he said.
The Firebirds jumped all over Ravens early on and didn't take their foot off the gas until the Ravens were a speck in Free State's rearview mirror. Needing a victory to wrap up the school's third straight district championship, the Firebirds stressed fundamentals all week. For the most part, FSHS coach Bob Lisher was thrilled with what he saw from his team in that department.
"Our emphasis all week was to be fundamentally sound so we could take away any chance they had to upset us," Lisher said. "And I think we did a pretty good job of that in the first half."
The Firebirds held the Ravens to 48 yards of offense in the first half and didn't allow an offensive point until 27 seconds remained in the game. The Ravens called back-to-back time outs inside the final minute to punch the ball into the end zone.
The first half featured a host of highlights for the high-flying Firebirds. After having touchdowns called back because of penalties last week against Lawrence High and again in the first quarter Friday, junior wideout Aundre Allen finally broke through with a 54 yard TD grab that gave the Firebirds a 21-0 lead.
"I must be cursed or something," Allen said. "But when I finally got in there I was just happy."
Allen, who has become a quiet-but-dangerous weapon for FSHS quarterback Camren Torneden, led the Firebirds in receiving with three catches for 73 yards.
Allen's only real miscue of the night came late in the third quarter, when he fielded an Olathe Northwest punt on the Firebirds' goal line and was tackled in the end zone for a safety. That wiped the shutout off the board and left Allen downgrading his performance.
"I don't know what happened there," he said. "It bounced back, I picked it up and I got tackled. I was on the field when they scored the touchdown, too. Neither one should've happened."
It hardly mattered. Fellow junior Chandler Schmidt, who also took a few snaps at quarterback late in the game, intercepted a Northwest pass and returned it 23 yards for a touchdown with 6:13 to play in the third quarter.
"We're just trying to carry this win into next week and go into state with some momentum," Schmidt said.
The victory improved Free State to 6-3 on the season. Olathe Northwest dropped to 1-8. Next up, the Firebirds will play host to Shawnee Mission Northwest (District 1 runner-up) in a first-round playoff game at 7 p.m. Friday at Haskell Stadium. The Cougars defeated the Firebirds, 34-27, at SMNW on Sept. 19.
Copyright 2018 The Lawrence Journal-World. All rights reserved. This material may not be published, broadcast, rewritten or redistributed. We strive to uphold our values for every story published.