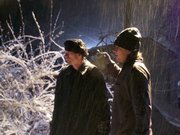 In the 1950s and '60s, working at Centron Studios made it possible for filmmaker Herk Harvey to make "Carnival of Souls," the cult-classic horror film shot mainly in Lawrence.
Today, Lawrence is home to several production companies that provide filmmakers with the means to make their own independent projects. The facilities offer high-end video and audio equipment that nurtures the creative community when it isn't being used for commercial productions.
One such company, Through a Glass Productions, thrives by producing both commercial and narrative projects.
"Working on all kinds of projects allows you to learn more about facets of the world you didn't know about before. ... It informs the stories you write," said company co-owner Jeremy Osbern.
Osbern formed the business with fellow Kansas University film school graduate Chris Blunk with a realistic financial plan.
"When we graduated film school, every student wanted to stay in the area and make movies, and you can't just do that and make a living. So we started a film company," he said.
Through A Glass Productions provides production and post-production services on a wide array of projects, from documentaries on synchronized figure skating to corporate videos on automotive distribution.
Post-production supervisor Steve Deaver appreciates the variety.
"It never gets boring. We're always experimenting with new equipment and technology," he said. "t allows us to hone our skills."
Corporate vs. creative
Osbern finds the limitations of the corporate world can provide some unique challenges.
"We have a big emphasis on story : and when you have a 30-second commercial, you have to tell a story in a limited amount of time," he said.
Networking is another benefit.
"It helps us make contacts with other skilled talent in the area. When working on shorts or features, we can call them up and see if they are interested in working on our films," Blunk said.
Patrick Rea has taken a slightly different approach to making a living in film and video production here in Lawrence. By working in the commercial world part-time, he has the freedom to devote more time to his narrative projects.
"Writing a film is a full-time job, and on top of that to actually make money, it can be hard."
Rea, whose feature film, "The Empty Acre," was released on DVD in 2007, works for Free State Studios, a production company that produces local programming for Sunflower Broadband Channel 6. (Sunflower Broadband is owned by The World Company, which also owns the Journal-World.)
Recently, Free State Studios has branched out into narrative films through executive producing several of Rea's short films. Rea appreciates how his commercial experience has opened doors for his narrative projects.
"It's a lot of fun," he said. "Being in Kansas has been working in our favor."
Rea's own production company, Senoreality, has produced many shorts that have been showcased in film festivals across the country.
"There's this false belief that it's hard to make films out here, but it's just not the case," he said. "Lawrence is becoming a hub for filmmaking."
Striking a balance
Chris Ordal, of Hometown Collaborations, agrees that the balance between commercial production and artistic endeavors can be challenging to achieve.
"The trick is to find stuff you're passionate about. That's what gets it done. If there's stuff that doesn't get done, it's because it probably shouldn't," he said.
Also a graduate of KU's film and theater department, Ordal founded Hometown Collaborations with fellow graduates Brad Roszell and Brendon Glad in 2004. Like Through A Glass Productions, they also have their own facility capable of high-end commercial, industrial and narrative production.
True to their namesake, Hometown Collaborations focuses on the collaborative aspect of the film medium.
"The whole reason we started the company is to work with other people," Ordal said. "It's community filmmaking. We like to bring other people business because we usually find it comes back in return."
"If you do everything yourself, you just get that experience," Roszell said. "If you work with others, it branches out."
Recent clients include the Kansas Music Hall of Fame, H&R; Block and the Dole Institute, and Hometown Collaborations also is beginning work on mini-documentaries for the Kansas Humanities Council. On the narrative side, they are in pre-production on a feature film called "Earthwork," based on the experiences of Kansas artist Stan Herd.
Ordal believes working on corporate videos provides filmmakers with valuable insight into how big companies think. "In filmmaking, you are not just an artist; you are selling something. Knowing something about the corporate mentality helps an independent filmmaker break through that wall," he said.
But whether it's commercials or feature films, art and commerce will continue to have a push-pull relationship in filmmaking.
"We're artists first, businessmen second," Blunk said. "Even if we just worked on features, there's always going to be a balance between artistic and commercial interests."
Copyright 2018 The Lawrence Journal-World. All rights reserved. This material may not be published, broadcast, rewritten or redistributed. We strive to uphold our values for every story published.