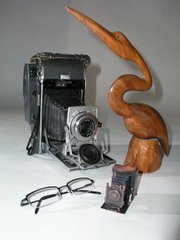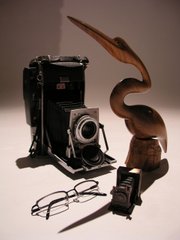 Photography is largely about light. In fact, the success of most images depends on having the right amount of light for a correct exposure.
But what defines good photography is often measured not only by the quantity of light but also by the quality. I want to offer a few suggestions this week, geared for point-and-shoot camera owners, for ways to improve the quality of light in their photography.
The majority of point-and-shoot cameras have flashes built into the camera body. Unless the operator turns this flash off in the menu of the camera, it will automatically fire in dark or underexposed areas. It is a great tool and can save many photographs from being underexposed when the quantity of light is low. But this type of direct flash can be unflattering and harsh.
To gain control over your flash, here are some ideas:
Tip No. 1 - Diffuse it
By taping a few pieces of material over your camera's built-in flash, you can diffuse the light. This will create a softer light that can eliminate some of the harshness of direct flash.
You can experiment using things like cut pieces of paper coffee filters, foam, thin cotton, etc. You can even use some colored fabric or plastic pieces for some fun effects. For any of these diffusion materials you can keep your camera's flash setting on "automatic."
Tip No. 2 - Turn it off
Too often photographers using point-and-shoot cameras let the automatic functions of their camera dictate the look of their images. While there are many instances where a flash is necessary to get any kind of exposure, there are a lot of situations were turning off the flash will offer some pleasing surprises.
Keep in mind that with the flash off, the camera may automatically adjust to a slower shutter speed to compensate for the exposure and you will want to hold the camera as steadily as you can. By turning off the camera's flash and using ambient light, only you will eliminate the harsh light and red-eye of direct flash. The resulting natural lighting, whether from a living room's floor lamps or the glow of a campfire, should make your subject appear more natural and pleasing.
About this series
"Behind the Lens" is a weekly look at photography, written by Journal-World staff photographers. Have an idea for the column? Contact Thad Allender, photo director, at 832-6359 or tallender@ljworld.com.
Copyright 2018 The Lawrence Journal-World. All rights reserved. This material may not be published, broadcast, rewritten or redistributed. We strive to uphold our values for every story published.