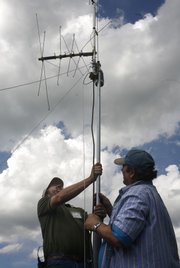 A passion for radio communication inspired the Douglas County Amateur Radio Club members and others to dedicate 24 hours to their hobby this weekend.
The club's participation in the annual national American Radio Relay League Field Day at the Douglas County 4-H Fairgrounds, which began at noon Saturday and ends at noon today, is a multifaceted event.
The field day is designed to simulate an emergency response operation, and radio operators compete to make the most contacts across North America in the 24-hour period as possible.
"I've done it before and by 2, 3, 4 in the morning, you get blurry eyed and you try to stay awake. You get tongue tied, and then hopefully someone brings you a cup of coffee and you can go again," said Rex Lockwood, the local radio club treasurer.
What keeps him and others, like Ken Baker, 52, of Baldwin City, motivated, is "to see if we can make some contacts across the country," Baker said.
The ARRL ranks clubs on a point system based on the number of made contacts, which each team logs on a computer. Results are released later in the year.
Baker, who works on radios for Kantronics, has been a licensed Ham Radio operator and with the Douglas County Radio Club since 1978. Though he hasn't had to use his operating skills in an emergency situation, he said, it's always good to stay sharp.
"It's a test of emergency preparedness," he said. "If you need to set up communications into or from an area where other services aren't working, the Ham Radio will do that."
Copyright 2018 The Lawrence Journal-World. All rights reserved. This material may not be published, broadcast, rewritten or redistributed. We strive to uphold our values for every story published.