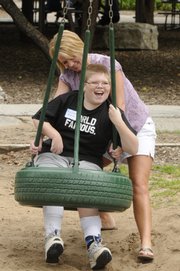 Six-year-old Gibson Huston's condition is rare.
"It's about one in a million," said Gibson's mother, Saasha Huston. "When I ask doctors about it, they say there is no number because it's so rare."
On Saturday, Gibson Hunter wasn't alone in his battle with hemimegaencephaly, a disorder in which the brain develops abnormally. Eleven families from across the United States, all coping with the condition, gathered in Lawrence for a celebration of survival.
They met at Raintree Montessori School, owned by Gibson's grandparents. While the children played in the sandbox and on the playground, their parents shared stories and exchanged tidbits and advice for dealing with the condition.
Hemimegaencephaly is a disorder in which cells develop more on one side of the brain than another, Huston said. Patients often develop severe seizures. The condition is treated by surgery to disconnect or remove parts or an entire hemisphere of the brain.
"We've all had experiences of brain surgery with our kiddos," Huston said. "It's been a life-changing experience and it's great to share."
Gibson Hunter ran around the playground Saturday.
He met Sachit Baichwal, a 20-year-old with hemimegaencephaly from New York state. Sachit has had three surgeries and no longer requires medication.
"He's been seizure free for the last 10 years," Sachit's father, Anand Baichwal, said.
Gibson Hunter also met 2-year-old Noah Jones, whose family traveled from North Carolina. Noah had his first seizures within hours after birth. He's since had two surgeries and will have a third because he continues to have seizures.
Jones' mother, Jen Jones, said Noah's life is filled with doctor's visits and therapy sessions while the family keeps a constant watch on the medical field and ways to help their child.
"We're always looking for better therapies and more funding and any type of resources whether it be physical or financial," she said. "You're in a constant search for something like that."
The parents met on a Yahoo discussion group. Their connections to one another are invaluable, they said.
"You need the support," Jones said. "You need to know that you're not the only one going through it. It really helps to have someone to compare your life to and share stories with and gain ideas from and to have a shoulder to cry on."
Copyright 2018 The Lawrence Journal-World. All rights reserved. This material may not be published, broadcast, rewritten or redistributed. We strive to uphold our values for every story published.