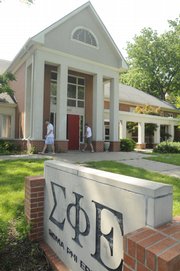 On Monday, Kansas University's Sigma Phi Epsilon fraternity will begin receiving a $1.6 million expansion.
It's about time, according to Tom Gray, alumni board member.
"We have been wanting to do this for years," he said of providing more space for fraternity members at their house, 1645 Tenn. "That's really the reason for the addition, but we're also adding a lot of cool amenities."
The expansion will include nine additional and larger member rooms that will eliminate the three-person bedrooms and allow for two roommates per room instead.
"It was kind of a learning experience this past two years," said Adam Price, KU junior from Garden City and fraternity president, about sharing a room with two other men. "You learn there is a lot of stuff you don't need."
Also included will be a new computer center, which will double in size.
"I use the computer room quite often," said Price, who is majoring in finance and sports management. "It's usually full almost every night. With this addition it should make it larger for kids who need to get in there."
A chapter room and living room will be updated and enlarged, too.
The fraternity will be bigger, but the membership of about 80 students will remain the same.
"We're just trying to improve the quality of life for members," Gray said.
Finally, the exterior will receive a facelift.
"It looks great, we've taken great care that it blends with the existing structure," Gray said of the facade design. "It will be a beautiful exterior. The neighbors should be thrilled. It's going to be really nice."
Neighbors may also appreciate that the construction won't hinder any traffic.
Gray said he predicted the project to be complete by December.
A groundbreaking ceremony will commence about 9:40 a.m. Monday.
The fraternity is the nation's largest and has been on the KU campus since 1923.
Copyright 2018 The Lawrence Journal-World. All rights reserved. This material may not be published, broadcast, rewritten or redistributed. We strive to uphold our values for every story published.