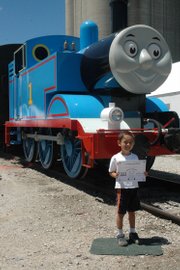 Baldwin City — Hundreds of children visited their favorite cartoon train Friday and thousands more are expected this weekend and next.
A Day Out with Thomas: 2008 has rolled into town for its annual two-weekend run at Midland Railway.
Katy and Robert Kittle of Douglass brought their grandchildren to town to see Thomas the Tank Engine on Friday.
"My daughter and her husband went to Cancun, so we took over taking care of the kids for them," Katy Kittle said. "Dayton (2) is a really big Thomas fan. Gavin (5) is kind of phasing out Thomas as he gets older. He has been a big Thomas fan. They have lots of trains and Thomas stuff. They loved the train ride today."
Julie Hinds of Jasper, Mo., brought her son Hunter, 5, and daughter Taylor, 2.
"Hunter brought us here today because he is a big Thomas fan and she is getting into it because of him," Hinds said. "Ever since he turned 2, he's been a big fan. I think the first word out of his mouth was 'Thomas.'"
Tickets are $18 for ages 2 and up. Trains depart every 45 minutes. Thomas is there today and Sunday and June 13-15.
Tickets for the 25-minute ride with Thomas can still be purchased by calling 866-468-7630 or online at www.ticketweb.com or http://www.midland-ry.org.
Copyright 2018 The Lawrence Journal-World. All rights reserved. This material may not be published, broadcast, rewritten or redistributed. We strive to uphold our values for every story published.