Photo Gallery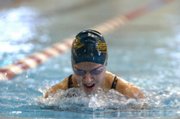 Wave the Wheat swim meet, day 2
Representing your country in the Olympic Games is one of the greatest honors that can be bestowed upon an athlete.
So for Lawrence swimmer Emma Reaney, getting the opportunity to vie for a spot on the U.S.A. swimming team at the age of 15 represented a crowning achievement in her young swimming career.
"Everything you get for going to the Olympics, all the recognition, is just so cool," Reaney said. "It's just great motivation to keep working hard. And you never know what's going to happen in four years."
On July 1, Reaney took to the pool at the Qwest Center in Omaha, Neb., for the U.S. Olympic Trials in the 200-meter individual medley.
Though her 2:20.19 mark placed her in a tie for 73rd place out of more than 110 competitors, Reaney was one of the youngest participants at the Olympic Trials.
"I thought I was going to be a little intimidated, but it was the most amazing thing that I've ever done," Reaney said. "It was so cool. The whole town just came together just for that meet, which was really cool. My time was pretty good - my second best time ever. So I was happy with my performance."
She may not have been intimidated, but she hinted at being a little star-struck.
"Just walking around the deck you see Michael Phelps, Natalie Coughlin, everyone was there. That was really cool," Reaney said. "I was talking to Mary Descenza in the locker room.
"She's a butterflyer. They have TVs in the locker room and we were watching Rachael Ray and she was telling me how she thinks Rachael Ray's voice is really annoying. So we went into a conversation about that and that was really cool. They were all just normal people."
Friday, the Lawrence Aquahawks swimmer was back in a more normal setting, participating in the Wave the Wheat Meet at the Lawrence Indoor Aquatic Center.
"It's really nice," Reaney stressed. "You don't have to worry about packing or any of that stuff. You just get to stay at home."
Reaney didn't compete in the 200-meter individual medley and decided to just swim the 50-meter freestyle and the 100-meter backstroke.
"We leave for sectionals in Oklahoma City on Tuesday and I'm swimming all my best events there," Reaney said. "So this meet I'm just swimming some of the events that I'm not normally going to swim - like the 50 free and the 100 backstroke."
Copyright 2018 The Lawrence Journal-World. All rights reserved. This material may not be published, broadcast, rewritten or redistributed. We strive to uphold our values for every story published.