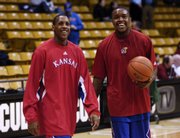 Ames, Iowa — Kansas University's basketball players' thoughts are with teammate Rodrick Stewart today as the senior guard attends his brother Allen's funeral in Seattle.
Stewart - the Jayhawks say - will be sorely missed during today's 6 p.m. battle against Iowa State at Hilton Coliseum, not just for his 7.7 minutes of playing time (his average in 12 league games) but his presence in the locker room.
"It's going to be tough because Rod's an aggressive guy. He is a big energy guy for us," KU's Russell Robinson said. "It's going to take everybody collectively to give just a little bit more to make up for missing him."
Stewart, whose minutes had declined of late until Saturday's 11-minute outing at Oklahoma State, could see his time taken by either freshman Tyrel Reed or senior Jeremy Case. Or sophomore Sherron Collins simply might play more ... if his bruised right knee is feeling well tonight.
"Rod gets pretty significant minutes and comes into the game and helps us out. We've just got to do the same thing he does: Come in and bring energy," Case said.
"He's a great defender so we'll have to pick up the energy on both sides. Offensively we've got to bring something, and defensively we've got to pick up where he left off."
Reed - he has entered just seven of 12 league games logging just 21 minutes total - did not play at OSU after scoring six points in eight minutes versus Colorado.
"I think the rest of our team is going to have to step up - Jeremy, me, whoever. I think it's going to be a big part of how we play there," Reed said. "Rod brings a ton of energy for us as a team, and we're just going to have to equal that. Even the guys who start are going to have to bring more energy. That's a big thing for us right now."
The Jayhawk guards have struggled against the likes of Byron Eaton (26 points), Marcus Hall (15 points), Curtis Jerrels (30 points) and Keon Lawrence (25 points) of late.
Today, the challenge comes in trying to slow oversized guard Wesley Johnson, a 6-7 sophomore who averages 12.5 points off 40.7-percent shooting. He's made 36 of 110 threes for 32.7 percent. Johnson scored 21 points off 6-of-17 shooting (3-10 threes) in KU's 83-59 victory over ISU on Jan. 23 at Allen Fieldhouse.
"Wesley is a hard matchup for any guard because he's so big," KU coach Bill Self said.
"He's bigger, so we'll probably have a three on him. Brandon (Rush) will guard him, and the four man - Shady or Darnell - will guard him a lot," Case said. "He's a great player, and he's tough to guard."
The Jayhawk guards realize they need to stop penetration as they did in holding Texas' D.J. Augustin to 10 points off 1-of-10 shooting in a 72-69 loss to the Longhorns on Feb. 12 in Austin.
"They put their head down, and they are going by," Robinson said of opposing guards. "We've got to get our team defense going to where they can't go anywhere."
An attitude adjustment might be in order.
"I think we've just got to take it a little more seriously. I think we need to concentrate more on keeping our man in front of us and just understand that's what kind of beat us last game. We need to get better at that and work on that Wednesday."
Reed, who is a coach's son, has listened intently to his college coach's commands on how KU must stop other team's floor generals.
"It's going to be extremely important for us guards to just step up," Reed said. "It's got to be a mindset for us that we're not going to let our man score on us and that we don't have any help. I think we're going to be fine. Mentally and physically we're going to be there, but it just might take a little time."
Time is not on the Jayhawks' side in the league race. Texas - one game up on KU - is in the driver's seat after beating Kansas State on Monday in Manhattan. Texas is 11-2, a game and a half ahead of 9-3 KU. The Longhorns have three games left - two at home. KU has two on the road and two at home.
Perhaps more importantly, however, is KU (4-3 in its last seven games) needing to get its swagger back with just four games remaining before the Big 12 tourney.
"We are confident, not like the beginning of the year," senior Darnell Jackson said. "After that first loss (to Kansas State on Jan. 30), I think everybody went downhill from there. We've got to be a team. Everybody has to find confidence and find their role on the team."
"We've got to play together, come together as a team and put Oklahoma State behind us," Robinson said of Saturday's 61-60 road loss. "We know Iowa State will be tough. They will have the crowd behind them. We have to play as a team to win."
Copyright 2018 The Lawrence Journal-World. All rights reserved. This material may not be published, broadcast, rewritten or redistributed. We strive to uphold our values for every story published.