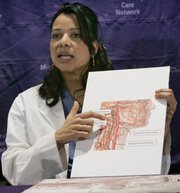 Buffalo, N.Y. — Florida Panthers forward Richard Zednik lost five units of blood, but doctors never considered his life in jeopardy after the player had his carotid artery nearly severed by a teammate's skate in a freak and frightening accident.
Zednik underwent an hour of surgery to reconnect the artery Sunday night and was listed in stable condition in the intensive care unit at Buffalo General Hospital on Monday. He was awake and cooperative with the medical staff, doctors said.
Attending surgeon Sonya Noor said there were no initial signs of brain damage, which is a fear whenever the coratid artery is clamped. She said clamps were in place for about 15 to 20 minutes during surgery, which she considers a short time.
"So far, he looks very good. He's awake, oriented," said Noor. "He remembers what happened last night."
Zednik was sliced across the right side of the throat by teammate Olli Jokinen's skate midway through the third period of Buffalo's 5-3 victory. Doctors said the skate blade just missed cutting the jugular vein.
The carotid artery supplies blood to the brain, while the jugular vein takes blood from the brain. Blood pressure is much higher in the carotid artery.
According to Noor, the slashed artery was "hanging by a thread." She stressed if the artery had been completely severed it would have recessed into the neck, requiring even more extensive surgery.
Prior to surgery, doctors noted that Zednik's blood pressure was dropping, and there was also swelling around the cut making it difficult to breath. Doctors put a tube in his neck to open an airway.
Copyright 2018 The Lawrence Journal-World. All rights reserved. This material may not be published, broadcast, rewritten or redistributed. We strive to uphold our values for every story published.