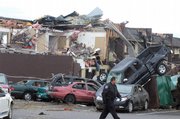 Red Cross chapters on standby for help
The Douglas County American Red Cross chapter and other regional chapters were notified Wednesday to stand by in case volunteers are needed in the tornado-stricken states.
So far, many of the needs in the tornado areas are being met by local volunteers, said Jane Blocher, Douglas County Red Cross director.
"There is a huge Red Cross contingent, especially in the Memphis area," Blocher said. "Red Cross is real strong in the South."
While Kansas and the Midwest experienced snowstorms on Tuesday night and Wednesday morning, tornadoes tore through Kentucky, Tennessee, Mississippi, Arkansas and Alabama.
No requests for help have been received by Lawrence-Douglas County Fire & Medical or Douglas County Emergency Management, officials there said.
The Kansas adjutant general's office had not received any requests, spokeswoman Sharon Watson said.
Lafayette, Tenn. — One man pulled a couch over his head. Bank employees rushed into the vault. A woman trembled in her bathroom, clinging to her dogs. College students huddled in dormitories.
Tornado warnings had been broadcast for hours, and when the sirens finally announced that the twisters had arrived, many people across the South took shelter and saved their lives. But others simply had nowhere safe to go, or the storms proved too powerful, too numerous, too unpredictable.
At least 55 people were killed and hundreds injured Tuesday and Wednesday by dozens of tornadoes that plowed across Mississippi, Arkansas, Tennessee, Kentucky and Alabama. It was the nation's deadliest barrage of twisters in almost 23 years.
"We had a beautiful neighborhood. Now it's hell," said Bonnie Brawner, 80, who lives in Hartsville, a community about an hour from Nashville where a natural gas plant that was struck by a twister erupted in spectacular flames up to 400 feet high.
The storms flattened entire blocks, smashed warehouses and sent tractor-trailers flying. Houses were reduced to splintered piles of lumber. Some looked like life-size dollhouses, their walls sheared away. Crews going door to door to search for bodies had to contend with downed power lines, snapped trees and flipped cars. Cattle wandered through the debris near hard-hit Lafayette (pronounced luh-FAY-et). At least 12 people died in and around the town.
"It looks like the Lord took a Brillo pad and scrubbed the ground," said Tennessee Gov. Phil Bredesen, who surveyed the damage from a helicopter.
Hundreds of houses were damaged or destroyed. Authorities had no immediate cost estimate of the damage.
President Bush gave assurances his administration stood ready to help. Teams from the Federal Emergency Management Agency were sent to the region and activated an emergency center in Georgia.
"Loss of life, loss of property; prayers can help, and so can the government," Bush said. "I do want the people in those states to know the American people are standing with them."
Students took cover in dormitory bathrooms as the storms closed in on Union University in Jackson, Tenn. More than 20 students at the Southern Baptist school were trapped behind wreckage and jammed doors after the dormitories came down around them.
Danny Song was pinned for an hour and a half until rescuers dug him from the rubble.
"We looked up and saw the funnel coming in. We started running and then glass just exploded," he said. "I hit the floor and a couch was shoved up against me, which may have saved my life because the roof fell on top of it."
Most communities had ample warning that the storms were coming. Forecasters had warned for days severe weather was possible. The National Weather Service issued more than 1,000 tornado warnings from 3 p.m. Tuesday to 6 a.m. Wednesday in the 11-state area where the weather was heading.
The conditions for bad weather had lined up so perfectly that the Storm Prediction Center in Norman, Okla., put out an alert six days in advance.
In Atkins, Ark., Sheriff Jay Winters said the first tornado siren sounded at 4:34 p.m. Tuesday.
Kitty Chandler had just left work at the Liberty Bank of Arkansas but turned around and returned after hearing the tornado sirens. "I went to the bank, into our vault. One of the safest places to be," she said.
While the weather was unusually severe, winter tornadoes are not uncommon. The peak tornado season is late winter through midsummer, but the storms can happen at any time of the year with the right conditions.
"All the clues were there. It was just unfortunate that it came out the way it did," prediction center director Joseph Schaefer said.
The tornadoes could be due to La Nina, a cooling of the tropical Pacific Ocean that can cause changes in weather patterns around the world. Recent studies have found an increase in tornadoes in parts of the South during the winter when La Nina occurs.
Thirty-one people were killed in Tennessee, 13 in Arkansas, seven in Kentucky and four in Alabama, emergency officials said. It was one of the 15 worst tornado death tolls since 1950, and the nation's deadliest barrage of tornadoes since 76 people were killed in Pennsylvania and Ohio on May 31, 1985.
Copyright 2018 The Associated Press. All rights reserved. This material may not be published, broadcast, rewritten or redistributed. We strive to uphold our values for every story published.