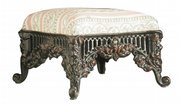 Current prices
Current prices are recorded from antiques shows, flea markets, sales and auctions throughout the United States. Prices vary in different locations because of local economic conditions.
¢ 1904 St. Louis World's Fair souvenir cigar case, aluminum, brass clasp, engraved, holds three cigars, $50.
¢ Lucite purse, oval, clear, chrysanthemum-cut sides, clear handle, Wilardy, 1940s, 9-by-9 inches, $200.
¢ Amos and Andy Pepsodent toothpaste store display, cardboard, "Um! Um! Ain't Dis Sumping," copyright 1930, 22-by-61 inches, $460.
¢ Pressed-steel red toy car, promoting the 1939 Roi-Tan Cigar Chevrolet giveaway on Sophie Tucker's CBS radio show, "An auto a day is given away," 5 inches, $480.
¢ Mount Washington Crown Milano biscuit jar, oval, yellow shading to pink, cascading branches of gold leaves and buds, stamped, 7 inches, $635.
¢ Sony transistor radio Model TR-63, yellow with red dial, leather case, 1957, 4 1/2-by-2 3/4 inches, $780.
Almost all chairs and tables were made of wood until the beginning of the 19th century, when new materials inspired new designs. When it was first used, iron had to be hand-wrought. But with the innovations of the Industrial Revolution, iron could be molded or cast. The earliest cast-iron furniture in England, made about 1823, was used in gardens, parks and cemeteries. But it was the 1851 Crystal Palace exhibition that made cast iron popular. Benches that looked as if they had been made from branches, ferns or grapevines were made for gardens. Soon geometric patterns, leaves and scrolls were designed so the furniture resembled Gothic or Rococo Revival styles of wooden furniture. The garden could be furnished with iron chairs, tables, benches, urns, fountains and statues. Cast-iron furniture was seldom used in the United States until the 1840s, when coal, an inexpensive source of carbon, was found in new mines. Soon, indoor furniture - including tables, chairs, beds, umbrella stands, music racks and footstools - were made and used in homes of prominent people. But heavy, ornate iron furniture lost favor by the 20th century. Other materials, such as metal tubing, plastic and even cardboard, inspired new designs.
Q: What is the age and value of our old ceramic sink? The inscription stamped underneath reads "T.C. Brown-Westhead, Moore & Co., Potters to Her Majesty."
A: Brown-Westhead, Moore & Co. operated the Cauldon Place and Royal Victoria pottery works in Hanley, Staffordshire, England, from about 1862 to 1904. Brown-Westhead made earthenware, majolica, parian and porcelain decorative pieces, dinnerware and "sanitary vessels" like your sink. Porcelain sink bowls are back in style. If yours is unusual and undamaged, it is worth $1,000 to $1,500.
Q: I recently visited a museum in Utah that identified a feather-bed smoother as a mangle for wet cloth. I thought a feather-bed smoother was for smoothing a feather bed.
A: A smoothing board, also called a mangle board, was a very early pressing tool popular in Scandinavia and other parts of Europe. It had two parts: a flat board with a handle and a roller stick about 3 inches in diameter. Damp fabric was folded into rectangles and rolled around the roller. Then the cloth roll was put on a table and the smoothing board was pressed down on it. As the fabric roll was pushed back and forth, the fabric was pressed. The best smoothing boards were made with carved handles and painted decorations, including initials and dates. They were popular as wedding presents. Some collectors today call smoothing boards by another name, "feather-bed smoothers." That's because they can also be slid over a feather bed or comforter to remove lumps.
Q: We came across a pitcher and six glasses that my husband's parents received as a wedding present in 1930. They are marked "Ditmar Urbach" and "Made in Czechoslovakia." The colorful pattern is a series of pointed peaks. Can you tell me about them?
A: Ditmar-Urbach AG Porcelain Factories operated under various names in Turn-Teplitz, Bohemia (later Trnovany, Czechoslovakia), from 1882 to 1938. The pottery began as Brothers Urbach. It merged with a factory owned by Rudolf Ditmar's heirs in 1919 and became Ditmar-Urbach. The Nazis took over the factory from the Jewish owners in 1938, and it became part of Ostmark-Ceramic. It was nationalized after the end of the war in 1945. The mark on your dishes was used after 1920. The pattern is probably "Himalaya,"which was made in several different groups of colors. Czech pottery is very popular with collectors today.
Q: I have a collection of metal serving trays decorated with paintings of fruit or flowers. They all have a sticker on the back that reads "Nashco Products." Some say Nashco is in New York City and some say Scranton, Pa. Some of the paintings are signed and some are not.
A: Nashco Products was at one time located in Brooklyn, N.Y., and later moved to Scranton. The company was still in business in the early 1990s, but metal serving trays like yours apparently were made during the middle decades of the 20th century. We have seen Nashco trays with black, blue or white backgrounds in round, square and rectangular shapes. The decorations, done by company artists, were hand-painted using stencils. Some of the painters signed their work, while others did not. Today many collectors hang the trays as wall decorations. The condition of your trays has a big effect on their value. Most Nashco trays in excellent condition sell for $20 to $50.
Tip: To remove stains from a glass vase, fill it with a mixture of ammonia and water and let it stand for a few hours.
Copyright 2018 The Lawrence Journal-World. All rights reserved. This material may not be published, broadcast, rewritten or redistributed. We strive to uphold our values for every story published.