On the street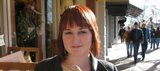 I'm going to spend it at my house with my husband.
Bars, restaurants and revelers are gearing up to ring in 2009.
But, before you tip your glass and welcome in the new year, health professionals remind revelers to be safe.
"People underestimate the effects of even one drink of alcohol," said Dr. Marc Scarbrough, a hospitalist at Lawrence Memorial Hospital. "People need to remember that even one drink can impair them and lead to a dangerous situation."
The hospital sees plenty of serious cases involving alcohol — more than 1,200 annually, said John Drees, community education specialist. Between four and eight people are treated at LMH every day because of alcohol, he said.
"Alcohol's a huge problem for our emergency department," Drees said. "Alcohol is responsible for many of the accidents and crashes and assaults and occurrences that bring patients to the emergency department."
During the past year, 118 people died in drinking-related vehicle accidents in Kansas, said Jen Brinkerhoff, director of The Regional Prevention Center of East Central Kansas.
In an effort to reduce such statistics in Lawrence, DCCCA Inc. is coordinating Tipsy Taxi, a free taxi service for those who overindulge. For the 25th year, area businesses — primarily bars and restaurants — will provide free taxi rides home for those who have been drinking.
"Anytime you're drinking, you should make a good decision not to drive, especially on New Year's Eve," Brinkerhoff said. "People are celebrating and having alcohol. They should remember that it's not just them that we're worried about; it's other people on the roads."
Last year, 500 people were served with 150 rides home.
Ten taxis will be dedicated to providing the free rides home between 10 p.m. Wednesday and 3 a.m. Thursday for those who specifically ask for a Tipsy Taxi when calling 842-TAXI (8294). The taxi will only take people to a residential address and not to other parties or businesses.
Copyright 2018 The Lawrence Journal-World. All rights reserved. This material may not be published, broadcast, rewritten or redistributed. We strive to uphold our values for every story published.