Photo Gallery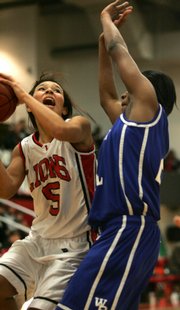 LHS girls vs. Washburn Rural
The Lawrence High girls basketball team entered Friday's season opener with a long list of question marks and a short bench.
And even though LHS lost to perennial power Washburn Rural, 67-63, the Lions left the game with a sense that things were going to be all right.
One of the biggest questions LHS faced was how it would replace injured senior Tania Jackson. Through a total team effort and the surprising interior play of junior Abbie Ramos, the Lions might have found a solution.
"I thought Abbie played great," LHS coach Kristin Mallory said. "She worked so hard for everything she got and played with the kind of toughness we need her to play with."
Ramos, who admitted to being nervous before the game and at halftime, contributed four points, six rebounds and monster minutes while being asked to guard Oklahoma State signee LaSharra Riley, who stands seven inches taller.
"They just told me to use my body, and that's what I tried to do," Ramos said. "I'm going to have so many bumps and bruises all over (today)."
So, too, will the rest of the LHS lineup, which was made up of just six other players and included four girls who started during the Lions' state championship season a year ago.
Senior Taylor Bird led the Lions with 20 points, Haley Parker chipped in 13, and Jasmyn Turner and Cassie Potter added 11 apiece. The Lions recorded eight steals, including a team-high four from Turner.
Despite their balanced scoring, fearless defense and championship swagger, the Lions could not find an answer for a hot-shooting WRHS team. In building quick leads of 10-2 and 13-4, the Junior Blues took control of the game early with their outside shooting. Paige Ladenburger, Taylor Zordel and Alexa Bordewick combined to hit eight jumpers in the first half, and Washburn Rural led, 38-31, at halftime. The lead likely would have been larger had the Lions not flashed a deft outside shooting touch of their own during the first two quarters. LHS was 5-of-9 from three-point land in the first half, including a 3-of-3 performance from Potter, who came off the bench because of a leg injury.
Things evened out in the second half, as both teams cooled off from the outside, but the deeper Washburn Rural team found ways to exploit the LHS defense at key times and the Lions were caught in a handful of defensive transitions that led to easy layups for the Junior Blues.
"At times, it looked like we were cones and they just dribbled right around us," Mallory said.
Still, Washburn Rural never could pull away. A seven-point third quarter from Bird kept the Lions within a bucket for most of the quarter and the Lions trailed by four points or less 10 times during the final quarter.
"We've got competitive kids on the floor the whole time," Mallory said. "There was some good and some bad tonight, but, overall, I liked the way we competed."
The Junior Blues are coming off of back-to-back trips to the Class 6A state tournament.
"They're probably one of the best teams we'll play this year," Bird said. "And we were right there with them. We played way better than I thought we would."
Such statements — echoed by most of the Lions' lineup — were music to Mallory's ears.
"We should gain confidence from tonight's game and not get frustrated by it," Mallory said. "I hope they get that."
Next up for LHS is the St. Thomas Aquinas Lady Saints Classic next Thursday through Saturday. The Lions will play Wyandotte High at 3 p.m. Thursday in the first round.
Copyright 2018 The Lawrence Journal-World. All rights reserved. This material may not be published, broadcast, rewritten or redistributed. We strive to uphold our values for every story published.