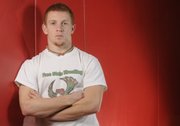 Patrick Naughton can't wait to roll out the mats for real.
When Naughton, Lawrence High's wrestling coach, looks down his team's roster at practice, he sees eight returning state qualifiers. Two of them placed in the top five at the Class 6A state tournament in Wichita.
That alone is cause for enthusiasm as the 2008-2009 season begins. But there's another perk to having one of the deepest, most talented LHS teams in recent memory. Naughton said it was the first time he remembered the Lions being ranked in the top 10 in the state in the preseason.
Lawrence enters the season ranked No. 8 in Class 6A in the preseason Kansas Wrestling Coaches Association poll, with five LHS wrestlers earning rankings in their weight classes.
So it's easy to see why the regular season can't get here soon enough for Naughton.
"This is going to be one of our best years," Naughton said. "These guys know we have a good core coming up and that we have a lot of guys coming with us. They're ready, and they've set some personal goals along with some team goals pretty high. They're just anxious to get this thing started."
Leading the Lions this season are two returning medal winners at the state tournament. Senior Blake Greenfield advanced to the semifinals at 135 pounds before falling to the eventual state champion. Greenfield finished last season with a 23-5 record.
Senior Brian Cain lost in the state semifinals at 160 pounds and finished in fifth place out of the consolation bracket. His record last season was 30-10.
They will be joined by six other returning state qualifiers: Tien Troung (112 pounds), Chris Lane, who should move up to 125 pounds from 119 last season, Levi Flohrschutz (125 pounds last season), Jake Pfannenstiel (130 last season), Dustin Walthall (152 last season) and Ryan Waller (171 last season).
According to Naughton, having a more mature, knowledgeable squad makes his job easier.
"Since those guys have been in our practices, it's a lot easier to get through practices because now we can just come in and say, 'Hey, this is what I want done,'" Naughton said. "We can work with the younger guys on their technique."
LHS finished 26th as a team last year at the state tournament, and Naughton said he expected a much improved performance at the Class 6A meet this season.
At Free State High, coach Paul Lappin also returns a couple of state qualifiers from the 6A meet.
Seniors Jack Caywood and Julian Kuszmaul both come back for their final season with the Firebirds. Caywood wrestled last year at 140 pounds, while Kuszmaul took the mats at 189 pounds.
Lappin said he also expected a significant contribution from junior Koty Russell, who placed second in state at 112 pounds as a freshman.
Caywood will be looking for his third consecutive trip to the state tournament this season.
"I don't think there's really any pressure to get there," Caywood said of reaching the state meet again. "If there is, it's from myself. My goal is just to go out and wrestle as best I can, and if I wrestle the best I can and can't make it to state, that's just fine, I suppose, because I did everything I could."
Lappin said his team would be one of the youngest he had coached, as he will look for assistance from an incoming group of 11 sophomores.
"They all just need experience," Lappin said. "They need to be on the mat as much as they can and get that match experience before the postseason rolls around."
As far as Lappin's expectations, he says it's still too early to tell.
"You can think great things seeing them beat up on each other in the wrestling room," Lappin said, "but until you see them in competition, you never know quite where they're at."
Free State will begin its season Saturday at the Gardner-Edgerton Invitational. Lawrence will kick off the year on the same day at the Leavenworth Tournament.
Copyright 2018 The Lawrence Journal-World. All rights reserved. This material may not be published, broadcast, rewritten or redistributed. We strive to uphold our values for every story published.