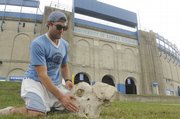 Going Deep
Get familiar with FIU
In the first edition of "Going Deep," a weekly spodcast that puts KU fans in touch with the opposing team, Journal-World sports writers Matt Tait and Eric Sorrentino talk with Miami Herald beat writer Pete Pelegrin about KU's opener against Florida International. Pelegrin shares the ins and outs of FIU's program and discusses why FIU coach Mario Cristobal says KU is a Top 5 team.
You stick with what works.
A year after Kansas University's football team vaulted to its most successful season in decades - with 12 wins and its first Orange Bowl title - Jayhawk fans vow to continue using the lucky rituals and charms they picked up last year.
The "Jayhawk rock" that normally resides at a restaurant 45 miles southeast of Lawrence has been rubbed more frequently by customers and employees in recent weeks.
Greg Beverlin, who owns Hillsdale Bank Bar-B-Q in Miami County, has a large rock that many say resembles the head of a Jayhawk in his lobby.
"A lot of people started rubbing it last year during football season, and they just kept winning," said Beverlin, who owns the restaurant with his wife, Donna.
A lucky charm can take many forms.
For KU student Stephanie Geddie, good luck comes from a box of Pillsbury cake mix.
"We make a different cake for every game," Geddie said of the tradition that began last year in tailgates at her Louisiana Street apartment.
"Because I make the cake and because I eat a quarter of the cake, I think that's why they did so well last year," said Geddie, a senior from Tulsa, Okla. "That's how I feel."
Funfetti. Devil's food. Strawberry. Everything in Pillsbury boxes, Geddie and her roommates baked and served. Some flavors appear to work. Some may not.
"We did a lemon cake, which was really weird," she said. "I think we maybe lost that game."
KU student Jordan Kerschen, a junior from Wichita, follows a strict regimen on game days. She wears her lucky bead necklaces, lucky hair ribbon, and her lucky No. 5 Todd Reesing jersey. If KU is playing an away game, she and friends go to the Yacht Club, 530 Wis., where she sits in the same spot for every game. One game last year seemed to prove her theory. She left her lucky seat and the football team was struggling.
"I moved back, and then we were good again," Kerschen said, adding that she'll be back in beads and ribbons tonight.
For many KU fans, clothing seems to hold great, mysterious powers.
KU junior Zac Ansaldo said he wears the same game-day T-shirt.
"It worked last year," he said. "We did pretty well."
KU senior Megan Geimer banks a lot on her jeans skirt, which she said helps her get mentally prepared for the season.
"When I put on my KU football shirt and my jeans skirt, I'm like: 'OK, this is the real deal now,'" she said.
Geimer wears her jeans skirt as a lucky charm for tests, too.
"I think I'm going to have to go buy a new jeans skirt," she said Friday as she was heading to Allen Fieldhouse to pick up her season tickets. "After I pick up my tickets, I'm going to pick up my roommate, then go get another jeans skirt."
The Jayhawks take the field at 6 p.m. today against Florida International at Memorial Stadium.
Copyright 2017 The Lawrence Journal-World. All rights reserved. This material may not be published, broadcast, rewritten or redistributed. We strive to uphold our values for every story published.