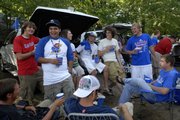 What Keegan says
Mark Mangino's football teams do not look past opponents. At least they never have. If his team is supposed to dominate an opponent it generally does.
And that's only the beginning of the explanation of why Kansas University quickly figures to turn Saturday's season-opener at Memorial Stadium into a blowout.
Another reason: Receiver Dezmon Briscoe, a 6-foot-3, 200-pound sophomore from Dallas who set a freshman record with seven touchdown receptions in 2007, turned heads all summer.
A wild guess: Briscoe will score three touchdowns Saturday.
Mangino isn't given to hyperbole when talking about his players. He had trouble biting his tongue when asked Tuesday about Briscoe.
"Dezmon's had an incredibly, incredibly productive training camp," Mangino said. "He's stronger than he was a year ago. He has a better understanding of what the defenses are giving him. He has a better understanding of our passing game in general, the reads, the routes. If he carries over to the field what he did in two-a-days, he's poised to have a pretty big year."
With Todd Reesing throwing such accurate long passes and Briscoe bruising and burning his way to touchdowns, it figures to be a long evening for the FIU secondary.
- Tom Keegan
At long last, the wait is over.
Kind of a lengthy wait, too, for college football fans. Big 12 supporters who watched their teams play in bowl games last season endured roughly eight months without football. Essentially, it's the longest wait in sports.
Not to worry, though: College football season is only three days away for most Big 12 fans; one day away for the Baylor and Iowa State faithful.
For the next four months, conference supporters likely won't be spending game days like Will Ferrell described one of his routine weekends in the movie Old School.
"Well actually, a pretty nice little Saturday," he said. "We're going to Home Depot. Yeah, buy some wallpaper, maybe get some flooring, stuff like that. Maybe Bed, Bath and Beyond, I don't know. I don't know if we'll have enough time."
It's time to wake up on the weekend and tune in to multiple college football games. Time to tailgate. Time for Big 12 Conference fans to cheer on their respective schools. Here's what's ahead for the conference in Week One:
Big 12 should-be beatdowns
Saturday: Florida International at No. 14 Kansas.
Latest line: Kansas by 37.
Did you know: The Sun Belt's Golden Panthers are 1-23 in the last two years. In fact, Sports Illustrated ranked FIU No. 118 in the nation - out of 119 Bowl Subdivision teams. The Golden Panthers lost by an average of nearly 24 points per game last year. In other words, this game shouldn't be close.
Quotable: "I want to tell you, last year (12-1, Orange Bowl champs) has no bearing on this year in a lot of ways. It's a new season. I can tell you we have a confident football team right now, but they're smart kids. They know there are a lot of areas we have to improve to be the team we want to be."
- Kansas coach Mark Mangino.
Saturday: North Texas at Kansas State
Latest line: K-State by 24 1/2.
Did you know: The only school that played as poorly in the Sun Belt as Florida International last year was North Texas, which went 2-10.
Quotable: "We could see in spring that Keithen could run in a style that's fluid and elusive ... What I didn't know about was the power that he has. The player he reminds me of is (Houston Texans running back) Wali Lundy; maybe not that top-end speed, but gets the most out of every single run."
- Kansas State coach Ron Prince on walk-on running back Keithen Valentine.
Saturday: Chattanooga at No. 4 Oklahoma
Latest line: n/a.
Did you know: Chattanooga, a Championship Subdivision team, went 2-9 last season. This could get ugly. Fast.
Saturday: Eastern Washington at No. 12 Texas Tech
Latest line: n/a.
Did you know: Eastern Washington is a Championship Subdivision team in the Big Sky Conference. It went 9-4 last season.
Quotable: "It reinforces something that's been true for a long time. You have to respect everyone and fear no one. There's no one on our schedule that can't beat us. But there's no one on our schedule that we can't beat."
- Texas Tech coach Mike Leach, on Appalachian State, a Championship Subdivision team, pulling off one of the most shocking upsets in college football history, a 34-32 victory at Michigan last season.
Big 12 should-be victories
Saturday: Florida Atlantic at No. 11 Texas
Latest line: Texas by 23.
Did you know: Florida Atlantic coach Howard Schnellenberger (2001-present) previously was the head coach at Oklahoma (1995), Louisville (1985-1994) and Miami (Fla., 1979-1983). Florida Atlantic is coming off an 8-5 season in which it defeated Memphis, 44-27, in the New Orleans Bowl.
Quotable: "I think it's (Big 12) definitely the best it's been top to bottom. Oklahoma has been consistent, we've been consistent, but Missouri and Kansas, all of a sudden, have a chance to play for the National Championship. It's a great compliment to the Big 12."
-Texas coach Mack Brown.
Saturday: Arkansas State at Texas A&M;
Latest line: Texas A&M; by 20.
Did you know: After practice last Wednesday, Texas A&M; coach Mike Sherman let the Aggies partake in a friendly water-balloon fight.
Was the head coach off limits? "Supposed to be. Some tried, one missed and the other just bounced off, so I think I won that battle," Sherman joked.
Saturday: Western Michigan at Nebraska
Latest line: Nebraska by 14.
Did you know: Western Michigan, a member of the Bowl Subdivision, defeated Iowa, 28-19, last season at Iowa in front of 70,585 fans. The highest home attendance last season at a Western Michigan home game was 32,129.
Thursday: South Dakota State at Iowa State
Latest line: n/a.
Did you know: South Dakota State (7-4 in 2007, 4-0 in conference) recently joined the Missouri Valley Conference (Bowl Subdivision).
Quotable: "I haven't slept for the past three to four nights, that's for sure. It's a very anxious feeling. I wish we played tonight, but that's part of the fun. I'm really looking forward to it, and really hoping we can be a better football team than the year before."
- Iowa State coach Gene Chizik.
Close calls
Saturday: Oklahoma State vs. Washington State (Seattle)
Latest line: Oklahoma State by 6 1/2.
Did you know: Washington State didn't play in a bowl game last year after going 5-7 in the Pac-10 Conference. The Seattle Seahawks stadium will be anything but a neutral site for the Cowboys.
Quotable: "It will be a true road test for us. From what I've been told, this stadium is one of the loudest in the NFL. They're going to have 55,000 to 60,000 people there."
- Oklahoma State coach Mike Gundy.
Thursday: No. 23 Wake Forest at Baylor
Latest line: Wake Forest by 12 1/2.
Did you know: The Deamon Deacons won their last three games last season, including a 24-10 victory against Connecticut in the Meineke Car Care Bowl.
Sunday: Colorado vs. Colorado State (Denver)
Latest line: Colorado by 11.
Did you know: Colorado holds a 58-19-2 advantage in the all-time series. Since 1986, the Buffaloes are 13-5 against the Rams, including victories in four of the last five seasons.
Quotable: "He's doing a nice job, but we have four to five backs doing a nice job. He's very talented, gifted and has done a nice job really fitting in. He'll definitely be in the mix Sunday."
- Colorado coach Dan Hawkins, on his projected impact of heralded freshman running back Darrell Scott.
Big 12 Game of the Week
Saturday: No. 6 Missouri vs. No. 20 Illinois
Latest line: Missouri by 8 1/2.
Did you know: Missouri leads the all-time series, 14-7, and has won the last three contests (2002, 2003, 2007). ESPN will not send its GameDay crew to St. Louis' Edward R. Jones Dome, but will rather attend the battle between No. 9 Clemson and No. 24 Alabama in Atlanta.
Quotable: "What we always do in February when we get back is have a team meeting, put up the schedule and talk about the nonconference games (for next season). We post it in every office, in the meeting rooms and in the weight rooms. I think it's a great bowl-game atmosphere against one of our rivals. We're excited about it."
- Missouri coach Gary Pinkel, on facing Illinois.
Copyright 2017 The Lawrence Journal-World. All rights reserved. This material may not be published, broadcast, rewritten or redistributed. We strive to uphold our values for every story published.