Photo Gallery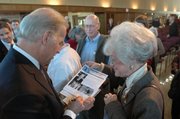 Joe Biden in Lawrence
U.S. Senator Joe Biden (D-Del.) spoke at the Dole Institute's "Contender Series" Friday, October 28, 2005 on the University of Kansas Campus in Lawrence, Kan.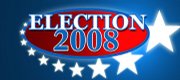 In-depth coverage of the candidates and the issues, all leading up to the Aug. 5 primary and the Nov. 4 general election.
Joe Biden
Age: 65
Hometown: Born in Scranton, Pa. Now lives in Wilmington, Del.
Religious affiliation: Roman Catholic
Experience: Has represented Delaware in the U.S. Senate for 36 years. Chairman of Senate Foreign Relations Committee. One of the youngest politicians ever elected to the Senate at age 29. Ran for president in 1988 and 2008.
Family: Wife, Jill; children Beau, Hunt and Ashley. His first wife, Neilia, and 13-month-old daughter Naomi were killed in a car accident in 1972, shortly after he was elected to his first term in the Senate.
For an in-depth profile of Joe Biden, click here
SPRINGFIELD, Ill. — Barack Obama returned Saturday to the place he launched his improbable campaign for the presidency 18 months earlier to introduce running mate Joe Biden as a tough-spirited champion of the working class tested by personal tragedy.
Though Biden is seen as providing an important advantage by adding foreign policy heft to a candidate criticized for inexperience, Obama and Biden instead kept their debut as a team focused on deepening the Democratic ticket's connection to white, ethnic, working voters, a constituency that has been hesitant to embrace Obama.
Their first appearance together provided a clear preview of what voters can expect going forward. Biden, a skilled debater known for delivering cutting attacks while flashing a wide smile, slashed sarcastically at Republican John McCain, relishing the traditional vice presidential role of assailing the opposition.
For a campaign themed on hope and drawing inspiration from Obama's barrier-breaking life story, Biden's biography was presented as a mirror-image, aspirational story of white ethnic America, an American Dream rooted in the traditions and conventions of the old working-class backbone of the Democratic Party. It provides a harder edge for a campaign that increasingly is focusing on economic struggle in tough times.
Biden jogged out in shirtsleeves and tie onto a platform in front of the Old State Capitol after Obama praised him as "that scrappy kid from Scranton who beat the odds; the dedicated family man and committed Catholic...the kind of fighter who I want by my side in the months and years to come."
Even Biden's many years mixing with international leaders as chairman of the Senate Foreign Relations Committee were presented in pugnacious terms, with Obama describing him as someone who "has stared down dictators."
While Obama's oratorical eloquence can come off as cool, aloof and intellectual - sometimes creating distance with blue-collar voters - Biden's debut was hot, earthy and visceral.
"Champ, it's not how many times you get knocked down, it's how quickly you get up," Biden quoted his father as saying. "Ladies and gentlemen," he added, "that's your story. That's America's story. It's about if you get up, you can make it."
He pivoted from a story about kitchen-table economic issues to lampoon McCain, who recently stumbled by telling an interviewer he did not know how many homes he owned, for his "seven kitchen tables."
Shortly after the Obama camp announced his choice of running mate Saturday morning, the McCain campaign turned criticism Biden had made of Obama during their primary battle against the new Democratic ticket.
"There has been no harsher critic of Barack Obama's lack of experience than Joe Biden. Biden has denounced Barack Obama's poor foreign policy judgment and has strongly argued in his own words what Americans are quickly realizing - that Barack Obama is not ready to be president," said McCain campaign spokesman Ben Porritt.
Biden, who has a reputation as a loose cannon, made his first gaffe as running mate, flubbing Obama's name at one point and referring to him as "Barack America." A joke he made about his wife's doctorate being a "problem" also fell flat.
Obama also made his own blunder, introducing Biden as "the next president" before correcting himself.
Biden, 65, has been a fixture in the Senate since 1973 when Obama was 11 years old.
But Obama, who has based his campaign on discontent with the status quo in Washington, described Biden as "that rare mix - for decades, he has brought change to Washington, but Washington hasn't changed him."
Obama stressed that Biden had made a practice of commuting home every night to Delaware to be with his family, a choice he made after his first wife and a daughter died in a car accident just before he took office in the Senate. For a time, he raised his two sons as a single father, with help from his sister, until he met his second wife, Jill, a teacher he has been married to for 30 years.
"Tragedy tests us - it tests our fortitude and it tests our faith," Obama said. "Here's how Joe Biden responded. He never moved to Washington. Instead, night after night, week after week, year after year, he returned home to Wilmington on a lonely Amtrak train when his Senate business was done."
With Biden's Foreign Relations Committee chairmanship comes access to power that was not enjoyed by any other contender for the No. 2 slot on the ticket. For example, Biden last weekend traveled to Georgia to observe the conflict with Russia first-hand and perhaps boosted his vice-presidential chances in the process.
Biden is also a former chair of the Senate Judiciary Committee, serving as the Democratic point man in the bruising Supreme Court confirmation hearings of Robert Bork and Clarence Thomas. He helped defeat Bork's bid for the high court, earning him the enmity of conservative activists and suggesting that Biden could play a large role in future high-stakes judicial nominations.
He has proven to be a reliable moderate on crime issues - particularly where narcotics are concerned - and was a principal author of the 1994 crime bill which sought to put 100,000 more police officers on the streets through a federal grant program. That bill also expanded the reach of the federal death penalty.
That expertise and his years as a Senate stalwart likely provides Biden the stature to go after McCain's record, especially on foreign policy, in a manner that Obama cannot. He also, as he proved in a Democratic debate last October in Philadelphia, is able to deliver an armor-piercing zinger. His quote about GOP candidate Rudolph Giuliani saying nothing more than "a noun and a verb and 9/11" echoed in political circles long after Biden's presidential bid came to an end.
Perhaps as important to Obama could be Biden's connection with middle-class voters. Biden was born in 1942 in Scranton, Pa., the son of a car salesman who struggled financially, at times working to clean boilers and moving the family into the home of in-laws.
He still has strong ties to Pennsylvania by virtue of his popularity in neighboring Delaware, perhaps giving Obama a leg up in that crucial battleground. His appeal to moderate, white Catholics could help shore up a weakness exposed in Obama's battle with Hillary Clinton.
Obama called Biden on Thursday night to offer him the vice presidential nomination, said Obama press secretary Linda Douglass. He contacted other finalists on Friday, aides said.
News of the decision leaked overnight Friday in news reports, just hours before Obama could fire off a personal text message to supporters.
Copyright 2018 The Lawrence Journal-World. All rights reserved. This material may not be published, broadcast, rewritten or redistributed. We strive to uphold our values for every story published.