Photo Gallery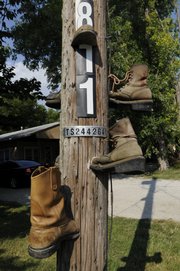 A garden with sole
Have you ever looked at an infestation of ants marching up and down a tree in your garden and think: Maybe if I nailed rubber soles from shoes in a pattern up the trunk of my tree, I could kill those ants, recycle the soles of my shoes and save the tree?
Yeah, I've never thought that either. But Bruce and Kris Barlow did.
The soled-tree that keeps vigil at the entry of their property is a unique, scaly creature, and that tree - well, it no longer suffers from an ant swarm.
Bruce Barlow is a cobbler. Boots and shoes are not in short supply in the Barlows' yard. There's a boot birdhouse and a cowboy boot gutter flanking the BKB Shoe Repair sign.
The Barlows find everyday items and turn them into gems at their North Lawrence home.
"We both gather and collect," Bruce Barlow says. "Occasionally we see ourselves as unique, but we certainly don't think that way when we wake up in the morning. I've got nothing but time in my life. I'll look around at things and think that might work here or there."
The Barlows generally are not seeking these bizarre items or other people's cast-offs. They do not frequent garage sales, salvage yards or estate sales. Instead the items just have an organic path that seems to land them right on the doorstep of the Barlow home.
"I came home one day and there was a footstool that the neighbor thought we'd like," Kris Barlow says. "We do like rusty things, rock things and glass things."
Bruce adds: "When something turns into three of a kind you have a collection. I'll have customers that will bring me odd items all the time."
I glance around to see some peculiar items. There are bowling balls with pennies, nails and marbles attached to them. There's an iron fence covered with rust, with an old metal tractor seat hanging from it. There are a couple of 1950s-era cars, and a humongous old street lamp to illuminate the entrance of Bruce Barlow's shoe shop.
While many might consider these items junk, sometimes it is in the way we display our belongings that is as important as the actual item.
"Other people call it artwork; we don't call ourselves artists," Kris Barlow says. "We like collecting items. We have similar tastes. When you find something you like, wander around until you find a place to stick it."
As she says this, I again look around to find an antler rack screwed into the A-frame of their house.
The water garden, which has taken over where a grassy little front yard used to be, is quite lovely. The Barlows decided they no longer wanted to mow, so they starting digging.
"The dirt here in North Lawrence is like butter, and you can dig it with a spoon," Kris Barlow says. "I never gardened before I moved here, but it is hard not to garden with such fertile soil."
A giant lotus trembles with each rain drop that hits its enormous leaves. The water lilies are blooming, and the tall thalia plant stands erect rooted in the shallow pond. The pond is constructed of stones that, as you might have guessed, the Barlows acquired for a song. They found an old stone structure that was being torn down and bargained a basement price for a truckload of the discarded stone.
"I like the pond no matter what stage it is going through," Kris Barlow says. "Whether it's black water, clear water or algae strewn water, I always enjoy it."
My favorite recycled item in the Barlow's garden is without a doubt the fence. It is incredible and entirely distinctive.
"It is supposed to be an undulating effect," Bruce Barlow says. "They are all different heights and parts of 36 pianos in all."
Yep, you read that right - pianos.
"Oftentimes people throw out their pianos," Bruce Barlow continues. "I knew friends that threw them out and it happened by one falling off the back of the truck and smashing and thinking those insides are beautiful."
The Barlows took those beautiful insides and created a magnificent fence using posts with old washed-out blue paint to separate each piano and hang them with varying bowling balls atop each blue post. The effect is wonderful, whimsical, peculiar and incredibly artistic.
In the heat of August, it is always a cool, refreshing breeze to visit gardens with ample hardscapes, where homeowners have thought beyond the plants and even tapped that inner Matisse we all have brewing inside of us.
Bruce Barlow muses a little at his time spent creating.
"It is terribly embarrassing when you are creating something and you are so in the moment for yourself," he says. "I think, 'I should be working on some shoes for others right now.' It is like getting caught with your pants down."
Copyright 2017 The Lawrence Journal-World. All rights reserved. This material may not be published, broadcast, rewritten or redistributed. We strive to uphold our values for every story published.