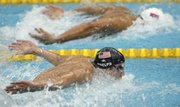 Beijing — Even Michael Phelps couldn't believe his eyes. He said he had to take off his goggles to make sure it was his name, and not Milorad Cavic, next to the No. 1 after a breathtaking finish in the Olympic 100-meter butterfly.
Phelps, who was in seventh place at the turn, surged in the final few strokes and somehow managed to out-touch the Serbian-American Cavic by one one-hundredth of a second. To the naked eye, it was nearly impossible to tell who won. And from some camera angles, it appeared Cavic had the gold. But the Omega electronic clock read: Phelps 50.58. Cavic 50.59.
Cavic stormed past reporters without stopping for interviews, and the Serbian team was reportedly filing a protest and disputing the result.
It was Phelps' seventh gold medal at these Olympics, which ties Mark Spitz's 36-year-old record from Munich. He will attempt to break the record Sunday in the 4x100 medley relay.
Phelps was humbled to be on the same seven-gold pedestal as Spitz.
"The biggest thing is when someone says you can't do things, when people say it's impossible to tie or break these records, I proved anything's possible," he said. "If you put in the hard work and put your mind to it, anything's possible."
This time, there was no world record, as there had been for Phelps' previous six golds. Instead, Phelps proved he can win in the tightest of races. Phelps made up ground in the final 50, and took an extra half-stroke at the finish, which would seem to have hurt him as Cavic's hands were already underwater gliding to the wall. But Phelps' extra kick surged him forward with force at the touchpad.
"When I saw the replay, when I saw I took that extra half stroke, I thought I lost the race," Phelps said. "But I guess that's exactly what I needed. I'm at a loss for words. I'm excited and relieved. It wasn't until I saw the No. 1 next to my name that I let out my roar."
The lucky seventh gold also meant a $1 million bonus from Speedo, one of his many sponsors.
All the talk heading into the Olympics was that fellow-American and world-record holder Ian Crocker could spoil Phelps' pool party in this event, but around the pool deck the past few days, the buzz was about Cavic. The Anaheim, Calif., native and Cal-Berkeley student set an Olympic record in the preliminary heats in 50.76 seconds, and swam the fastest semifinal time (50.92).
Cavic's times were particularly impressive considering that Phelps and Crocker held the top 17 times in the event heading into the Olympics. Cavic, who is 6-foot-6, said after the semifinals that he was hoping to derail Phelps so that one day people would say, "Phelps had a chance to win eight and lost to some guy." Cavic desperately wanted to be that guy.
Instead, he has to settle for the silver. Andrew Lauterstein of Australia won the bronze. Crocker finished fourth.
Crocker, the quiet, unassuming rival from Portland, Maine, also wanted to be "that guy" who ruined Phelps' day. So much so, in fact, that he put all his efforts into the 100-meter butterfly rather than race in multiple events. Crocker beat Phelps to win the world titles in 2003 and 2005, and set the world record (50.40) in 2005.
But Phelps beat Crocker in the 2004 Olympics by .04 seconds and edged him again in the 2007 world championships by .05 seconds.
Crocker : "Sports is all about one person trying to derail the other person's dreams."
As usual, Phelps' quest for history overshadowed the other events at The Water Cube on Saturday. Kirsty Coventry of Zimbabwe set a world record in the women's 200-meter backstroke in 2:05.24. Margaret Hoelzer of the United States won silver.
Brazil's Cesar Cielo Filho set an Olympic record and won gold in the 50-meter freestyle, beating a pair of Frenchmen - Amuary Leveaux and Alain Bernard.
And in the women's 800, Great Britain's Rebecca Adlington set a world record.
Copyright 2018 The Lawrence Journal-World. All rights reserved. This material may not be published, broadcast, rewritten or redistributed. We strive to uphold our values for every story published.