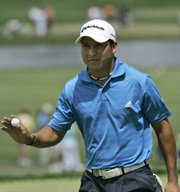 Bloomfield Township, Mich. — All it took was one record-tying round and several claps of thunder for Oakland Hills to finally look vulnerable Saturday in the PGA Championship.
Andres Romero kept his calm and played a third round he described as "almost perfect" in making seven birdies to become only the seventh player to shoot 5-under 65 in a major at Oakland Hills.
Then came Mother Nature, who really brought "The Monster" to its knees.
Thunderstorms swamped the golf course before 36-hole leader J.B. Holmes and five guys chasing him could even tee off. More than four hours later, the PGA of America told everyone to return today for what could be the first 36-hole final at a major in nearly 30 years.
"It will be like college again - playing 36 in one day," Holmes said. "It happens, and everyone else has to do it, too. So we just have to go out there and deal with it. They've got 12 hours to work on the golf course, and it needed the rain.
"We'll see what it looks like tomorrow."
The rain could reshape the character of the final major. Holmes was at 1-under 139, the only player to beat par over two days, but so much rain was sure to take the fire out of the Donald Ross greens that had made players be on the defensive.
"I think it is fair to say they will be significantly more receptive," said Kerry Haigh, the PGA official in charge of setting up the course.
Former U.S. Open champion Angel Cabrera ripped a 3-wood down the first fairway when the round was suspended at 2:16 p.m. Hours later, as he looked toward more dark clouds to the north, he contemplated a marathon today.
Romero was at 2-over 212, and had no idea just how long he would have to wait to see where it stacked up.
The good news? He can get some rest. The third round was to resume at 6:15 a.m. today with six players facing 36 holes, while Romero won't have to show up until 11 a.m. and play only 18.
Steve Flesch was doing the best in his All-Lefty pairing with Phil Mickelson. Flesch, who had a chance at the Masters this year, rolled in a 20-foot putt and was 2 under for his round - 1 over for the tournament - through five holes.
Mickelson was at 3 over, but had an 8-foot eagle putt on No. 6 when play was stopped.
Copyright 2018 The Lawrence Journal-World. All rights reserved. This material may not be published, broadcast, rewritten or redistributed. We strive to uphold our values for every story published.