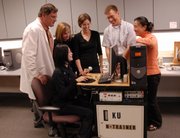 A patent reform bill that is before Congress could change the way local businesses and universities do research.
Approved by the House last September and now before the Senate's Judiciary Committee, the Patent Reform Act of 2007 would be the first major rewrite to patent law in more than 50 years. Part of the proposed legislation would make U.S. laws more in sync with the rest of the world.
Kansas University officials said those changes could impact how the innovated research occurring at the school is protected. In many instances, research advancements made at KU have transferred over to products that are marketed and sold by private companies, some of them local.
"Something you are using today came from a university - I guarantee it," said Keith Yehle, KU's director of federal relations.
Patents have become paramount in the fields of drug discovery and engineering, said Jim Baxendale, director of KU's Office of Technology Transfer and Intellectual Property. He worries the proposed legislation could lead to frivolous lawsuits.
"It dampens the enthusiasm for a technology when you're ... holding a key patent and someone can bring several lawsuits against you quite easily," Baxendale said.
Reform changes
One of the most notable differences in the reforms would be granting the patent to the first person to file an application, as opposed to the first one to invent it, which is how the system works today.
It's a change that could hinder researchers at universities who routinely publish their findings long before any product goes to market. And universities don't want to restrict researchers from publishing just so they can file a patent, Baxendale said.
KU files more patents than any other public institution in the state, totaling a couple of dozen each year. And some of them spur private business.
For instance, Steve Barlow, director of KU's Communication Neuroscience Laboratories, developed a medical device that helps premature babies learn to suckle and start eating. That work sparked a new business, KC BioMediX Inc.
If Barlow hadn't filed a patent for the technology, Baxendale said, there would be no protection for him or the company that would want to take the technology and turn it into a product to sell.
"It really does start with intellectual property protection, whether it's patents or copyrights or even trademarks," Baxendale said. "Companies just don't have the desire to take something out that they won't have protection for and put all that time and investment towards it to take it to market."
As of now, Yehle said higher education institutions are closely monitoring the bill's progress.
The real battle pits the computer technology sector, including heavyweights like Microsoft, Apple and Google, against the biotechnology and pharmaceutical industries.
In recent years, the high tech companies have had difficulty defending the hundreds and sometimes thousands of different patents used in one product. Patent holders - some of which hold the patent for a technology but don't use it to manufacture a good - have filed lawsuits when their patent is used without an licensing agreement.
Patent abuse?
Thrown into the mix are the companies criticized as "patent trolls" for the tactic of buying up unused patents, holding on to them and then suing when one is used in a high-tech gadget.
Perhaps the most publicized case was when NTP, a company that held patents for wireless e-mail but never developed a product with it, sued the makers of BlackBerry and threatened to bring the technology to a standstill. The case was settled with more than $600 million going to NTP.
The big technology companies favor the proposed patent reforms because it limits the amount of damages those filing patent infringement lawsuits can receive. The proposed patent law would look at just the cost of the patent's contribution to a product, as opposed to the entire value of the product.
Unlike the technology sector, in the pharmaceutical world - where one drug is usually covered by a signal patent - the U.S. patent system has worked well.
With the proposed reforms, these companies - along with universities and those in the biotech sector - could find themselves more susceptible to patent challenges and up against lighter penalties for patent infringements.
Yehle said the university hasn't picked sides on the issue.
"We just want to make sure the system works for the university, and we want to make sure the system doesn't inhibit what we do," he said.
Copyright 2018 The Lawrence Journal-World. All rights reserved. This material may not be published, broadcast, rewritten or redistributed. We strive to uphold our values for every story published.