Photo Gallery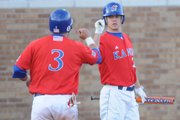 KU baseball vs. Baker
Midweek baseball games against NAIA teams are intended to be a way to pad the record and get some playing time for bench players - and much-needed rest for starters.
For the Kansas University baseball squad, Tuesday's game against Baker University was supposed to be just that.
However, Baker made it a bit interesting in an 11-6 KU victory at Hoglund Ballpark.
"I shared with our players that we did a lot of things really good, we just had that one bad inning and let them back into the ball game," Kansas coach Ritch Price said. "But then we turned right back around and scored again like good clubs do."
KU coasted through the first six innings with a 9-0 lead. But in the top of the seventh, the Wildcats scored six runs off of reliever Matt Lane - only four were earned due to two errors - before Max Ellenbecker came in to clean up the inning.
Out of the 21 Kansas position players used in the game, only Matt Berner and Ryne Price contributed more than one hit - each batting a perfect 3-for-3.
Ryne Price, who normally patrols right field, spent his sixth game playing behind the plate - which seems to translate to success while at the plate.
With his 3-for-3 performance, Ryne Price is 11-for-22 this season when he plays catcher.
"I think it helps being able to see the ball from behind the plate and that may carry over a little bit to my at bats," Ryne Price said. "It helps too being able to know if he (the umpire) has the big strike zone that day or if you can layoff pitches that are off the plate because every guy's different."
Ryne Price increased his Big 12 Conference lead in RBIs to 52.
¢ Marciel out for season: Before Tuesday's game, KU baseball coach Ritch Price made it official that left-handed pitcher Wally Marciel will miss the remainder of the 2008 season because of a torn ligament in his pitching elbow. The Kailua, Hawaii native will have Tommy John surgery next week.
Copyright 2018 The Lawrence Journal-World. All rights reserved. This material may not be published, broadcast, rewritten or redistributed. We strive to uphold our values for every story published.