2008 NCAA Tournament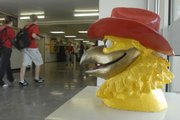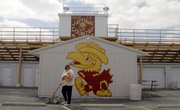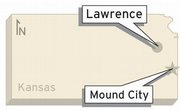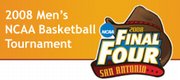 Get your March Madness fix at KUSports.com.
MOUND CITY — "Take heed all who enter - beware of the 'Hawks."
A sign like that in Allen Fieldhouse would be just a bit off, but at Jayhawk-Linn High School, home of the Jayhawks, the sign's just right.
Across the country, about nine schools use the Jayhawk as their mascot. Only two - Kansas University and Jayhawk-Linn - are in Kansas.
About 90 minutes southeast of Lawrence, Jayhawk-Linn High School was established in 1972 after the closure of three other high schools. At the time, leaders decided new colors and a mascot would be needed.
With the area's ties to the Civil War and cross-border raiding by Jayhawkers and Bushwackers, the Jayhawk seemed a natural mascot, said Rick Long, a Jayhawk-Linn math teacher who has been at the school since it opened.
Long also happens to be a major fan of the Kansas Jayhawks.
"I'm very pleased with the team," Long said. "I just hope the pressure's off of them now."
In addition to teaching math to the red and gold Jayhawks - the Jayhawk-Linn mascot also sports a bright gold cowboy hat - Long helps coach the girls basketball squad.
The team lost in the substate championship game this year and, consequently, is no stranger to pressure.
"I tell them to relax, play and have fun," Long said.
Shawn Thomas, a Jayhawk-Linn social studies teacher and assistant coach for the boys and girls basketball teams, also is a fan of KU, even back to the Jayhawks' 1988 national championship.
"Basketball is a big part of everything we do here (at Jayhawk-Linn)," Thomas said. "We have a lot of KU fans, but K-State has its contingent, too. There are even a few Mizzou fans."
Thomas said he hoped the Jayhawks would be able to tune out all the distractions that go along with a Final Four game, as well as any talk of former KU coach Roy Williams.
In addition to Jayhawk-Linn High School, Jeannette Senior High School in Pennsylvania and Jericho High School in New York use not only the Jayhawk name but also their own version of Hal Sandy's "Happy Jayhawk." In Jeannette, home of high school football star and Ohio State signee Terrelle Pryor, the Jayhawk is a mix of the traditional crimson, blue and gold colors. At Jericho, the Jayhawk is all blue with gold feet.
Other schools choose to call their mascots the J-Hawks, including Urbandale High School in Iowa and Jefferson Central Schools in New York. Two community colleges, Muskegon in Michigan and Jamestown in New York, also use the Jayhawk name. Head-Royce, a K-12 private school in California, uses a Jayhawk that bears no resemblance to the Kansas Jayhawk.
For the right to use the Jayhawk name or mascot, KU is compensated, said KU Associate Athletic Director Jim Marchiony.
The licensing fee is the nominal sum of $1 per year, he said.
Press Conferences & Post-Game Interviews
Bill Self's April 1 pre-Final Four press conference
KU coach Bill Self met with the media in Hadl Auditorium Tuesday to discuss the upcoming Final Four, in which his team is part of history, with all four one-seeds having advanced to San Antonio. Self talked in-depth about gameplanning for North Carolina, plus again denied rumors that he will leave Kansas the end of the year to take over at his alma mater for Sean Sutton, who resigned earlier in the day as the Oklahoma State men's basketball coach.
We want your KU stories
Do you have a room in your home that's, well, essentially a shrine to Jayhawk basketball? Did you change your T-shirt during the KU-Davidson game because the one you had on really wasn't your luckiest shirt?
Clearly, you're a fan - better yet, a fanatic. And we'd like to hear your story. Just drop an e-mail to editor@ljworld.com.
And if you're taking off for San Antonio, don't forget to e-mail us your road trip photos - and your Final Four experiences.
Copyright 2017 The Lawrence Journal-World. All rights reserved. This material may not be published, broadcast, rewritten or redistributed. We strive to uphold our values for every story published.