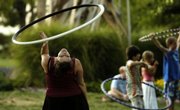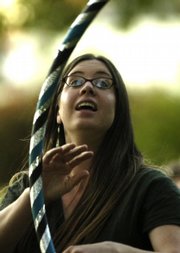 Try it out
Ali Mangan, owner of Hoop Mamas, will teach two hoop aerobics classes in the next few months.
¢ A six-week session starts Monday at Body Boutique, 2330 Yale Road. Classes meet at 4:30 p.m. Mondays and Fridays. Hoops are provided, and a gym membership is not required. Call 749-2424 for more information.
¢ Mangan also will teach during the winter and spring sessions through Lawrence Parks and Recreation, beginning Jan. 8. For more information, call 832-7930 or visit www.ci.lawrence.ks.us/lprd.
¢ Mangan organizes free hoop-play sessions at
7 p.m. Wednesdays at South Park. Hoops are provided; all ages welcome.
It's a perfect late-summer evening in Lawrence, and things are getting silly in South Park.
People have gathered on the lawn. Jam-band music drifts from a CD player. And everywhere you look, hula hoops wrapped in colorful, glittery tape are spinning on waists, arms, necks and legs.
Kids giggle as they shake their hips. A few women more experienced in the art swim gracefully through their hoops.
Gregor Brune gets adventurous and asks his friend to roll a hoop across the grass so he can try leaping through it. He falls a few times but eventually squeezes through the moving target.
"I never knew how invigorating it would be," Brune says.
Although this may sound like a scene transported via time warp, hooping is actually making a comeback.
But this is not your mother's hula hoop.
The 1950s fad that had poodle skirt-clad gals swiveling at a frenzied pace to keep a lightweight plastic hoop aloft has evolved into a playful workout trend that uses specialized hoops to make the pastime easier for people of all body types and fitness levels.
In Lawrence, Ali Mangan has started a company called Hoop Mamas. She organizes this free hoop-play session on Wednesdays at the park.
"Supposedly, hooping releases endorphins that support feelings of joy and calmness, and I don't know how that works scientifically, but I know that it's true," says Mangan, 29. "If you're in a really bad mood, just break it out, go out in your backyard and hoop for 10 minutes, and it's always made me feel better."
Into the groove
Mangan first tried hooping two years ago at the Wakarusa Music and Camping Festival and got hooked right away.
"I was really surprised how easy it was for me," she says.
After hooping daily for months on end and reading about the activity online, Mangan realized it packed fitness benefits as well.
"You'll start breathing heavy and sweating really quickly," she says. "But the weird thing about it is it's so addictive that you're hooping and sweating and burning all these calories, but you don't want to stop."
Indeed, hooping seems to blur the lines between work and play. That's evident as Mangan gets into a groove at the park.
The hoop starts at her waist, rotating on her hips as she rocks front to back. With a quick flip of the wrist, she grabs the hoop and guides it up her torso, over her head and into the air - all the while keeping it spinning around her hand.
Before long, she's swinging the hoop around her body, rotating it with her shoulders and neck, and lowering herself to the ground with her leg pointed skyward to pull off her newest trick - hooping with her foot.
"This really burns," she says, "so I can't do it for very long."
Some sources have reported that hooping can burn as many as 110 calories in 10 minutes, although no definitive studies have been conducted. Mangan says she has shed pounds and dress sizes.
"Trust me, if you do it for six minutes, you're sweating," says Jo Ellis, recreation instruction supervisor for Lawrence Parks and Rec, where Mangan will teach a hoop aerobics class this winter. "But it has to be continual. You can't stop and get the same benefit out of it."
'Attractive to everyone'
Although hoops originated in ancient times, a company called Wham-O introduced plastic ones in 1958, selling 20 million for $1.98 apiece in the first six months. The buzz faded, however, until the late '90s, when hooping enjoyed a resurgence in jam band and rave circles.
Christabel Zamor is among the enthusiasts bringing it into the mainstream. In 2001, she started a modest company in San Francisco called HoopGirl that now sells hoops and instructional DVDs, teaches classes and certifies instructors across the country.
"It is proliferating so much faster now," Zamor says on the phone between television appearances. "It used to be rare to see people with hoops. Now I'm driving down the street and I see people walking with them."
She has commissioned a study through California State University-Long Beach on the health benefits of hoop dancing. In the meantime, she knows that the exercise provides the same benefits to the abdominal region as crunches, boosts cardiovascular endurance, promotes spinal flexibility, improves coordination and strengthens the body's core.
And perhaps most importantly, Zamor says, hooping is sexy.
"At HoopGirl, we redefined sexy to be an energetic confidence and a radiance and a grace that is accessible to everyone," she says. "There is this primal feeling of self-love and joy that when somebody has it, they are attractive to everyone around them."
Fitness mix-up
Mangan makes hoops and sells them at Beyond the Door, 918 Mass. Like most people, she uses poly irrigation tubing and then wraps the hoops in colorful tapes. The weight of the hoops (generally 1 1/2 to 3 pounds), combined with their diameter (they stand somewhere between navel and shoulder height) and their tape coating (which helps them cling to your body), makes hooping much easier than it used to be.
Just ask Molly Easley, who picked up the habit a few weeks ago.
"(A friend) gave me her hoop and I did it on my waist for about five minutes," says Easley, a 27-year-old Kansas University student. "I was hooked.
"It feels great. I've tried to be a more active person lately, but it wasn't until I did this that I really found something I have a super great time with."
Easley turns to another hooper at the South Park gathering and reveals she's been working on a new trick she saw online. She tucks a spinning hoop behind her back and attempts to catch it with her foot and pass it back around. The hoop breaks loose and zips across the grass.
"Since I'm still new and just experimenting, a lot of times the hoop will just kind of fly off, and I have to run and get it and try it all over again," Easley says. "Sometimes I'll spend 20 or 30 minutes just trying one trick over and over again to get it."
That's just what Mangan is hoping for.
"I just want people to at least try it, because so many people's fitness routines get boring and they don't mix it up enough so they quit whatever they're doing," she says. "Nobody realizes that hooping actually burns as many calories as jogging. I mean, I'd rather hoop than jog.
"There's just something about it trimming your waistline. I think it did that in the '50s, too. I think that's why some ladies kept doing it."
What goes around comes around, indeed.
Copyright 2018 The Lawrence Journal-World. All rights reserved. This material may not be published, broadcast, rewritten or redistributed. We strive to uphold our values for every story published.