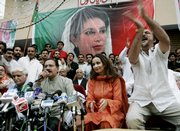 Islamabad, Pakistan — Opposition leader Benazir Bhutto is coming home next month to press for the restoration of democracy, regardless of the outcome of her talks on sharing power with Pakistan's U.S.-allied military president, her party said Friday.
The government, meanwhile, said Bhutto would not suffer the fate of political rival Nawaz Sharif, another former prime minister who was swiftly expelled when he returned from exile Monday, but officials said she would have to face pending corruption charges.
Bhutto, who left Pakistan eight years ago amid the corruption allegations, has been negotiating with President Gen. Pervez Musharraf on the possibility of combining their political forces to share power after elections.
Musharraf, also head of Pakistan's military, is seeking allies in his effort to win election by parliament to a new presidential term. He has seen his popularity slide this year after he tried to remove the Supreme Court's popular chief judge and Islamic militants stepped up attacks.
Both Bhutto and Musharraf are urging moderates to work together to defeat Taliban and al-Qaida extremists based along the frontier with Afghanistan. But they have failed to produce an accord, amid signs Musharraf is reluctant to give up the sweeping powers he seized in a 1999 coup.
Bhutto, 56, said Pakistan needs to return to civilian rule as it prepares for parliamentary elections that must be held by January.
"This will strengthen our efforts for democracy," Bhutto, who lives in exile in Dubai and London, said later on Pakistan's Geo television. "Democracy should be restored completely and the army removed from the scene."
The U.S. government, which has viewed Musharraf as key regional ally since he dropped Pakistan's support for the Taliban after the Sept. 11 terror attacks, took no position on Bhutto's return.
"We're not in the business of picking candidates; we're not in the business of favoring parties," State Department spokesman Sean McCormack said. "We have an interest, obviously, in seeing Pakistani democracy move forward and progress. Part of that is having free, fair and open, transparent elections."
The Pakistan People's Party said Bhutto would fly into Karachi, Pakistan's biggest city and the capital of her home province of Sindh, on Oct. 18.
"The people of Pakistan will get real democracy," party Vice President Makhdoom Amin Fahim said, seated in front of a huge portrait of Bhutto.
After he announced Bhutto's plans, supporters threw flower petals and firecrackers and chanted "Long live Benazir! Prime Minister Benazir!"
Bhutto was only 35 when she became prime minister in 1988, the first female leader of a modern Muslim nation. She was elected to a second term in 1993.
Both her governments were dismissed amid corruption allegations, chronic economic problems and alleged differences with Pakistan's powerful military.
But her secular, liberal-leaning party is well organized, and Bhutto is one of Pakistan's best known politicians, the daughter of a prime minister who was deposed and sent to the gallows under a previous military leader.
Copyright 2018 The Associated Press. All rights reserved. This material may not be published, broadcast, rewritten or redistributed. We strive to uphold our values for every story published.