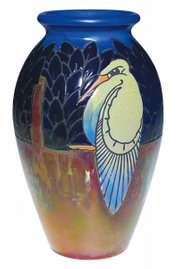 Current prices
Current prices are recorded from antiques shows, flea markets, sales and auctions throughout the United States. Prices vary in different locations because of local economic conditions.
¢ Benjamin Harrison song booklet, "True Blue Republican Campaign Songs for 1892," published by S. Brainard's Sons Co., 32 pages, price 10 cents, $110.
¢ Harvard football-player doll, stuffed cloth body, celluloid head, crimson uniform, 14 1/2 inches, $175.
¢ Laurel and Hardy pendant watch on chain, face has one smiling, one frowning, gold luster finish, Dirty Time Co., 1970, 24-inch chain, $335.
¢ Hereke silk rug, center medallion with floral design on pink ground, corner dated 1950, signature in fringe, 2 x 3 feet, $405.
¢ Chippendale-style game table, mahogany, skirt, acanthus-carved knees, green felt-lined playing surface, 1930s, 30-by-36-by-18 inches, $460.
¢ Franklin stove, iron, fitted with eight figural tile medallions in skirt, "Franklin Anchor No. 216," patented Sept. 18, 1888, 42-by-34-by-26 inches, $535.
¢ Russian silver belt buckle, interlocking cartouche, niello design, sword-form latch, fabric strip with applied bar and buttons, 1880s, 28 inches, $690.
¢ Luster mantel decoration, cut glass, diamond and oval pattern, 7 inches, prisms, 12 1/2 inches, $920.
¢ A.P.W. Satin Tissue toilet-paper sign, stand-up easel back, cardboard, maid stocking cupboard with tissue rolls, 1920s, 38-by-21 inches, $1,155.
"The Kovels' Collectors Guide to American Art Pottery" was one of two books published in 1974 that explained art pottery. Organized information about factories, marks and artists was included, as well as pictures of the best pottery. Rookwood, Roseville, Weller, Grueby, Ohr and other potteries were soon "discovered" by collectors, and prices began to rise. Collectors with limited budgets searched for works by some of the smaller, lesser-known potteries. Today, because the best of early 20th-century art pottery is in museums or private collections, prices are very high. A $25 vase in 1974 could be worth $2,000 today. So collectors have turned to English, French or German art pottery. It is surprising how similar some of the techniques, shapes and designs appear when you compare American with European art pottery. One easy-to-trace technique is iridescent glazing. Jacques Sicard made an iridescent glaze for his pottery in France and later for Weller Pottery in Ohio. The metallic luster was so successful that Sicard was determined not to give away his secret. He is said to have worked in a secret room with no peepholes at Weller. But other potteries in both the United States and France were able to make a similar metallic luster. Today all pre-1930 luster-glazed art pottery from France or the United States is very collectible.
Q: We bought a 10-piece dining-room set at auction several years ago. There's a medallion in the drawer of the buffet that reads "Special design made for James McCreery & Company, New York, N.Y." I'd like information about the set and its maker. Can you help?
A: McCreery & Co. was a major New York City department store, not a furniture maker. There also might be a maker's mark on your furniture. McCreery's sold quality furniture by various makers, including Drexel and the Byrdcliffe Art Colony. Pieces often were marked by both the store and the maker. McCreery & Co. opened in 1867 as a silk retailer, but within three years, its founder, James McCreery (1826-1903), bought a large building on Broadway and added several other departments to the store. So McCreery's became an early New York department store. McCreery's closed in 1953, so your set was made before then.
Q: Can I clean my old glass candy containers so they'll shine the way I think they did when they were new? Many of mine are covered with grease and grime, and some have yellowed.
A: Gentle washing with mild dishwashing liquid in warm (not too hot or too cold) water is OK. Be careful not to scratch or chip the glass. If the container has a paper label, don't let it get wet.
Q: You're always suggesting that people store their old photographs, postcards, baseball cards and papers in "archival albums" or "archival boxes." What do you mean?
A: Anything printed on paper that you want to preserve should be stored in specially treated albums or boxes. They're called "archival" because they're designed for archiving things for generations. Photos, for example, won't fade as quickly or be ruined by moisture or insects if they're stored in archival albums or boxes. They're acid-free and treated with buffering agents that resist dust, dirt and light. You can buy museum-quality storage boxes and albums online or at some high-end photography or picture-framing stores.
Q: We recently inherited a Hardman grand piano that I'm guessing is about 80 years old. I have never heard of Hardman pianos. What can you tell me about the company?
A: Hugh Hardman established the Hardman Piano Co. in New York City in 1842. Leopold Peck joined the company in 1880. When he became a partner in 1890, the company's name changed to Hardman, Peck & Co. Hardman pianos were recognized for their fine musical qualities, beauty and durability. Hardman Peck was the official piano of the Metropolitan Opera in the early 20th century and the official White House piano during Franklin Roosevelt's presidency. Hardman, Peck & Co. was later bought by Aeolian Corp., a piano maker that went out of business in the 1980s. The trade name was later acquired by North American Music, a piano distributor. Hardman pianos are now made overseas.
Q: Should I polish my antique silver or leave it tarnished?
A: Go ahead and polish it. It will look a lot better. And silver sells better when it's clean.
Tip: To remove the remains of sticky glue and tape from antiques, try peanut butter on the sticky area until the glue is gone. Do not use this method on porous materials. Oil from the peanut butter could leave a stain.
¢The Kovels answer as many questions as possible through the column. By sending a letter with a question, you give full permission for use in the column or any other Kovel forum. Names and addresses will not be published. We cannot guarantee the return of any photograph, but if a stamped envelope is included, we will try. The volume of mail makes personal answers or appraisals impossible. Write to Kovels, (Lawrence Journal-World), King Features Syndicate, 300 W. 57th St., 15th Floor, New York, NY 10019.
Copyright 2018 The Lawrence Journal-World. All rights reserved. This material may not be published, broadcast, rewritten or redistributed. We strive to uphold our values for every story published.