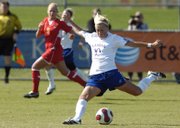 Colleen Quinn continues to come through for the Kansas University soccer squad when it needs her most.
With the threat of missing the Big 12 Conference tournament for the first time since 1999, the senior goalkeeper has stepped up to pitch three shutouts in Kansas' last four games.
The latest was a 1-0 victory Sunday against Iowa State at the Jayhawk Soccer Complex to clinch a spot for KU in the conference tournament.
"It's a huge relief, that in the last half of the season we've really picked it up and kind of turned things around from the beginning," Quinn said. "I'm very excited for the tournament and to get another chance to take this group somewhere. Being my last year, hopefully we can take them farther than we have the past couple of years."
Quinn, who last week was named the Big 12 Conference defensive player of the week, didn't see much action in the net during the first half, when the Cyclones attempted just one shot.
The second half was a different story, however, as Quinn had to come up with four saves to preserve the victory.
"She made a big save on a scramble in the box, and she came out and smothered it," Kansas coach Mark Francis said. "That was a big save because it was kind of point blank. 'Leen's been very solid for us and, I think especially since conference started, has really kept us in some games."
With four underclassmen starting and four others coming off the bench to see action, Quinn's play in the net has begun to impact those younger teammates.
"I think it gives me a lot of confidence when she's back there," Kansas freshman Katie Williams said. "I see her make big saves, and I'm like, 'All right, she's done this, now let me do my part to help her out.' Maybe in the future she's not going to have those big saves because we stop them before it gets back there."
Williams gave Quinn a one-goal lead with seven minutes left in the first half when she finished off fellow freshman Kaitlyn Cunningham's deflection of a corner kick by junior Jessica Bush.
"It was definitely a team effort, so it was great," Williams said of her first goal at Kansas. "It got our spirits up, and we felt like, 'We can do this.' So we needed that goal."
The victory put the Jayhawks in a tie with Colorado for fifth place in the Big 12 standings going into their final game of the season.
KU still has an opportunity to move further up in the seeding for the conference tournament, with just three points separating them from second-place Missouri - to whom the Jayhawks will play host on Friday.
"I think we knew we needed to win today to clinch the postseason, so obviously there's extra motivation there," Francis said. "But we still obviously want to do well in the game Friday because it would be another win on the record, that I think helps us maybe down the road, too."
Copyright 2018 The Lawrence Journal-World. All rights reserved. This material may not be published, broadcast, rewritten or redistributed. We strive to uphold our values for every story published.