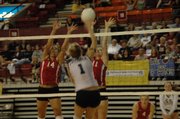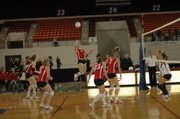 Salina — Before the Tonganoxie High volleyball team's final match Friday night, Liz Baska overheard mumblings from Clearwater players. The subject of the chatter wasn't exactly friendly.
"Word was that they were talking a little smack. They said that (senior) Sami (Franiuk) was (our) only really good hitter and everyone else was just OK," Baska said. "It got us fired up."
It showed on the court of the Salina Bicentennial Center. Tonganoxie defeated Clearwater, 25-23 and 25-21, in the final pool-play match of the Class 4A state tournament. The Chieftains advanced to the semifinals and face Topeka Hayden at 2 p.m. today.
Tonganoxie's match against Clearwater was an instant volleyball classic. Both teams entered the match with 1-1 pool-play records. Terms were simple: Win and advance to Day 2; lose and go home.
"I had more nerves in me than ever," Tongie senior Shannon Carlin said. "It's amazing. I'm glad we're not riding on a bus home in the morning. This is our last chance. It's all for one, one for all. Go out and do it and get it done."
After winning a close first game by two points, Tonganoxie trailed, 15-10, in the second game. THS co-coach Brandon Parker immediately called a timeout.
"It was time to put up or shut up," Parker said. "We're going to decide as a team if we were going to be strong enough to get this done. I challenged them, and (co-coach) Tiffany (Parker) challenged them. We're at that point. We're fighting for our lives to get in the semifinals."
Apparently, the talk worked. After the timeout, the Chieftains had four straight kills by four players to cut the lead to one. Carlin, Baska, Franiuk and junior Chrissy Jeannin produced the points.
Tonganoxie then tied the game at 17 and never trailed again.
"Tonganoxie does not give up," Carlin said. "Everyone had the will to do it. We said, 'There's no way Clearwater is stomping over us.' We had to come out and prove to them that we're Tonganoxie."
The Chieftains (30-12) finished pool play with a 2-1 record.
THS defeated Colby, 25-16 and 25-14, but lost to St. James Academy (Lenexa), 25-22 and 25-19, in its other two matches.
Tonganoxie is participating in the state tournament for the first time since 1993 and the fourth time in school history. The highest the Chieftains ever have finished at the state tournament was fourth. There are only four teams left in this year's tournament.
"We're definitely pushing for it all," Baska said. "We won't settle for anything less."
To read more about the THS volleyball team, check out the Chieftain volleyball blog here.
Copyright 2018 The Lawrence Journal-World. All rights reserved. This material may not be published, broadcast, rewritten or redistributed. We strive to uphold our values for every story published.