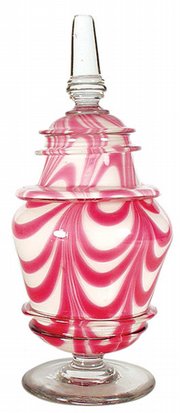 Current prices
Current prices are recorded from antiques shows, flea markets, sales and auctions throughout the United States. Prices vary in different locations because of local economic conditions.
¢ Boy Scout first-aid kit, tin, leather pouch, c. 1928, $55.
¢ Goetze's Ham store sign, advertising The Great Gildersleeve Show, diecut paper, pictures Gildersleeve holding ham, 1950s, 13-by-13 inches, $100.
¢ Vogue Jan doll, vinyl socket head, brunette, sleep eyes, swivel waist, 1958, 10 inches, $175.
¢ Mickey Mantle's Big League Baseball board game, Gardner Toys, 1958, $210.
¢ Molded plywood chair set, stacking, Muller and Stewart, Canada, 1968, set of four, $520.
Sterling-silver fish set, Nightingale pattern, monogram, Gorham, c. 1885, two piece, $700.
¢ Carnival glass water set, Tiger Lily pattern, amethyst, seven pieces, $955.
In the days before sweeteners like Equal, Splenda and Sweet'N Low, cooks used sugar chipped from a block. Sugar was an expensive delicacy in past centuries, and rural cooks used honey, molasses and grape juice as sweeteners. The well-to-do in areas where sugar beets or sugar cane grew or those near seaports could get refined sugar in large blocks. The sugar pieces were large and irregular in shape, so they were served in large bowls. A cover was needed to keep the moisture out and the sugar from hardening. Sugar bowls were made of glass or pottery. Some now very collectible glass sugar bowls were made of colored blown glass by the Pittsburgh Glass Works in the mid-1800s. One very important sugar bowl made of opaque white, red and clear glass recently received a final bid of $5,040. The covered bowl, 13 inches high, was made in a shape seen in several other sugar bowls of the same age.
Q: My stacking bookcase is labeled Macey, although it looks a lot like a Globe-Wernicke bookcase I own. Is it as valuable?
A: The stacking bookcase is back in style, with copies offered by many modern furniture makers. Rectangular wooden boxes about 48 inches long by 12 inches high were made as units. Most had lift-up glass doors. Lawyers and others with papers and books to store bought three units or more to stack. They are sometimes called barrister bookcases because they were so often seen in lawyers' offices. The Macey Furniture Co. of Grand Rapids, Mich., opened in 1892. At first it was a mail-order company that sold desks made by others. But by 1900, Macey made its own furniture. In 1905, Macey merged with Wernicke Furniture Co. of Cincinnati, and in 1907 the company became Globe-Wernicke. Bookcases made before 1908 are marked with the name "Fred Macey Furniture Company" in script with a long tail on the "y." Later pieces were marked "Macey" in a black or colored oval.
Q: I have a ceramic parrot figurine marked "Will-George." I've been told it was made in California. Tell me more.
A: Will and George Climes founded the Will-George pottery in Los Angeles in 1934. For a time, Edgar Bergen, the ventriloquist who worked with Charlie McCarthy, was a partner. The company moved from Los Angeles to Pasadena in 1940. By 1948 the business had moved to San Gabriel, and its name had changed to Claysmiths. But pieces were still marked Will-George. The company was best known for its bird and animal figures. It also produced vases, lamps and a series of oriental figures. It closed in 1956.
Q: Are my Ivorex plaques valuable? They look like they are carved from ivory and then colored. My plaque shows a cathedral.
A: Osborne Ivorex was made by Arthur Osborne in England. He was a designer for the J. and J.G. Low Art Tile company in the United States but returned to England in 1898 to start his own business. He carved a master plaque, then made a mold and used it to make plaster-of-Paris plaques. These were air-dried, then hand-painted, then dipped in wax. A brass ring was added so the plaque could be hung with a cord. After 1914 he used steel rings. Each plaque has his name and the copyright symbol as part of the molded design. Other companies copied him. The plaques sold in many countries, and in the best year, 45,000 were made. Arthur Osborne died in 1943, and his daughter Blanche kept the company going. It closed in 1965 but was bought in 1971 by W.H. Bossons, who made the identical plaques but removed the AO (Arthur Osborne) mark. The company closed for good in 1997.
Q: I have a grandmother clock that was given to my grandparents in 1926 when they were married in England. The clock is in excellent working condition. On the back of the mechanism, the word "Unghans" is inscribed above the letter "J." Under that are "Wurttemburg" and some numbers. The clock is 66 inches tall. Can you give me an idea of age and value?
A: The "J" is the first letter of the clockmaker's name, Junghans. The rest of the name, unghans, is the other part of the mark. Erhard Junghans founded the Junghans Clock Co. in Schramberg, Germany, in 1861. The company made both watches and clocks, and by 1903 it was the largest maker of timepieces in the world. Grandmother clocks are smaller versions of grandfather clocks. A tall-case clock between 60 and 70 inches tall is considered a "grandmother clock." When your grandparents received it, the clock might have been new. Today it could sell for $700 to $1,000, or possibly more. Old grandmother clocks are not easy to find. Junghans is still in business, but it has expanded into the manufacturing of electronic fuses.
Tip
Wicker furniture should not be waxed and polished like wooden furniture. It needs to be vacuumed, then sprayed with a hose.
Write to Kovels, (Lawrence Journal-World), King Features Syndicate, 300 W. 57th St., 15th Floor, New York, NY 10019.
Copyright 2018 The Lawrence Journal-World. All rights reserved. This material may not be published, broadcast, rewritten or redistributed. We strive to uphold our values for every story published.