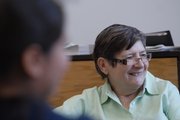 On the street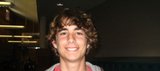 When you have a job later on, it's important to know different languages to communicate with different clients.
Some options for learning a foreign language:
¢ Kansas University's language departments offer college-level courses at different times during the day. Check out www.languages.ku.edu or www2.ku.edu/~spanport for more information.
¢ KU's Confucius Institute offers Chinese classes geared specifically toward the community. More information can be found at www.confucius.ku.edu.
¢ Lawrence Parks & Recreation holds Spanish classes and conversation groups. Visit www.lprd.org.
Ellie Gibbs wants a career in international business - and she's not assuming her contacts will learn English.
"It almost goes without saying," says Gibbs, a senior at Bishop Seabury Academy. "If you're dealing with different countries, you can't expect everyone to know English. That's an outdated prejudgment."
Larry Day, a retired Kansas University faculty member, agrees. He's the author of "Careers for Foreign Language Aficionados & Other Multilingual Types" ($14.95, McGraw-Hill) which recently was published in its third edition.
Day - who publishes under the name J. Laurence Day - was on the journalism faculty at KU and has taught journalism seminars throughout Latin America and in other parts of the world.
He says being bilingual will make the next generation of workers much more marketable when it comes to getting jobs.
"You type in, for example, 'jobs for Urdu speakers' in a search engine, and you get 150,000 hits," says Day, who lives in Lawrence. "It's amazing what the Internet has done for expanding the numbers of jobs and the kinds of jobs."
And that's for Urdu, a South Asian language. Day says the Hispanic immigration in the United States still makes Spanish the most sought-after language for employees to know.
"In terms of getting jobs in the United States entry level, Spanish is probably the language that would be most approachable in terms of the language itself, and the most needed," Day says.
Though the basics of his book, which first was published in 1991, remain the same, Day says globalization, immigration and technology (including hand-held translators) meant it needed to be updated.
The book outlines a wide spectrum of careers that especially lend themselves to bilingual employees. Health care and human services are among those with the largest need, he says.
"It's so important that people know they don't have to be completely fluent," Day says. "You don't have to speak native-level Spanish to get employment or improve your chances in a company."
'Better chance'
It's a Friday afternoon in Mireille Green's honors French class at Bishop Seabury, and the smell of crepes is creeping out into the hallway.
Students are making the traditional French pastry and talking - almost exclusively - in French.
"I feel like even though people are saying the French market is crashing down, it's still practical," says Gibbs, the senior. "We do a lot of business between the states and France. It makes a lot of sense."
Another senior, Bill Butler, is planning to hedge his language bets. He's taken four years of French, but he wants to learn Chinese in college.
"I think China is going to be where it's at politically and economically in the future," Butler says.
And learning a language and culture gives workers a clear advantage over those who haven't taken the time or made the effort, Butler says.
"Especially now with globalization, it's important for everyone to interact," he says. "If you can do that in their language, it gives you a better chance to be successful."
'Multilingual view'
Danny Anderson, professor of Spanish and associate dean for interdisciplinary studies at KU, says he's seen a growing number of dual majors during his nearly 20 years at the university. More students are choosing to major in a language in addition to, say, business or education.
He doesn't have statistics to prove it, but he's pretty sure students with those double majors find jobs more easily and probably get paid better than those who only know English.
"I feel like when you think about the forces of globalization, and business executives talk about this, 10 years ago, people would say English is what everyone in the world is going to have to learn," Anderson says. "More and more, if you look at it after 9/11, with what we understand with all the other cultural groups, there's a greater sense we're behind as a country as far as promoting a multilingual view of the world."
In fact, the National Association for Bilingual Education reports that only 9 percent of Americans are bilingual. That compares with half of European citizens.
Though most people get their language training during their high school or college years, Anderson says KU has considered offering more evening language courses to be more convenient for members of the community to take them.
That's good news for Day, who says it's never too late to learn a foreign language.
"People tell me, 'I can't learn a language,'" Day says. "Learning to speak a foreign language is a messy thing. You're going to have trouble with verb tenses. My advice to people is to get in there and don't worry about that. Don't let anyone tell you that you can't learn a foreign language."