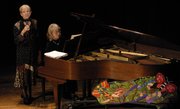 Tensie Oldfather's monetary contributions have helped start and preserve numerous organizations across Lawrence, but her true legacy is the gift of generosity and compassion.
"I think that my mother felt that she was lucky; she had more money than she needed and a sense of commitment to the community," said Felicia Oldfather, Tensie Oldfather's oldest daughter of seven children.
Tensie Oldfather, a well-known Lawrence philanthropist and community volunteer, died Oct. 2 in Kansas City, Mo.
To celebrate the 88 years of her life, more than 500 people filled Liberty Hall on Wednesday night to share their memories. The celebration took place in a historic building that Oldfather and her late husband, Charles Oldfather, helped preserve and restore - just one example of their many philanthropic deeds.
A simple act of kindness, one of Tensie Oldfather's home-cooked meals, meant a lot to Elizabeth "Moe" Goetz when she and her family first moved to Lawrence. Goetz, 80, recalled being invited over when Goetz's husband was about to start teaching at Kansas University's law school, where Charles Oldfather taught.
"It was great," Goetz said. "She even had food (that) kids would like, like corn on the cob. She was just a kind person. Everybody loved her. She was a good cook, too."
Before Oldfather received an inheritance that allowed her to provide monetarily for others, her sense of volunteerism had already blossomed. She volunteered with several organizations such as 4-H, the Red Cross Blood Bank and the League of Women Voters, all while raising seven children.
Her daughter Melanie Oldfather said she wished she could ask her mother one question: "I always wondered when I got older and had my own kids, how did she do it?"
She said her mother was always there for the children all while still being involved with the community and taking time for herself.
Melanie Oldfather and her sister Felicia performed "When You Wish Upon a Star" as a tribute to their mother. Melanie Oldfather said the song was special to her because a line in the song, "it makes no difference who you are when you wish upon a star," reminded her how circumstances made no difference to her mother. "If there was a need she was there," she said.
With a special story, Chip Blaser, executive director of the Douglas County Community Foundation, which Oldfather started, illustrated how that line was true. He said a young lady came to Oldfather to request money for a drama camp her family couldn't afford and Oldfather obliged. The young lady promised to pay her back, but Oldfather didn't want her money, Blaser said. He recalled Oldfather telling the girl to instead pass on the same act of kindness when she was old.
Providing for others any way you can was the essence of Oldfather's life, Blaser said.
Several other of Oldfather's children shared stories of learning life lessons in the garden or flying with their mother after she learned to pilot a plane solo.
Oldfather's son Steve said that after he had a brush with death, his mother showed him how to live life to the fullest on two basic principles: don't make excuses to yourself and don't be too hard on yourself.
"My mom's my hero," he said. "She showed me how, and I think she did that for more than just me."
Copyright 2018 The Lawrence Journal-World. All rights reserved. This material may not be published, broadcast, rewritten or redistributed. We strive to uphold our values for every story published.